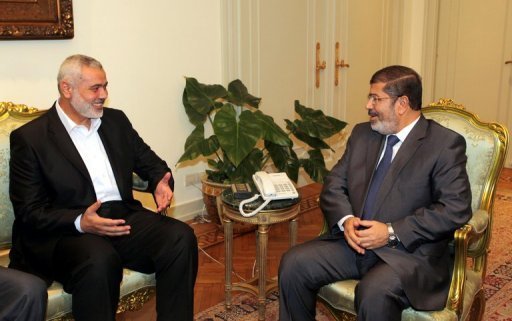 Hamas on Friday hailed the meeting between its leader in the Gaza Strip, Ismail Haniyeh, and Egypt's Islamist President Mohamed Morsy, saying it represented a "turning point" in relations.
"The meeting between [prime minister Haniyeh] and the Egyptian president constitutes a real turning point in bilateral relations," Haniyeh's spokesperson in Gaza, Taher al-Nunu, said in a statement.
The Thursday meeting in Cairo "touched on strategic issues, and bodes of a future of joint work," Nunu said.
"The prime minister is comfortable with the results of his meeting with Morsy," Nunu said.
Haniyeh's visit to Cairo, a week after Morsy met with Hamas chief Khaled Meshaal, came days after Palestinian officials said Egypt had eased visa requirements for Gazans under 40.
Last week, Haniyeh had hailed the meeting between Morsy and Meshaal as a "fruit of the revolution" that overthrew Morsy's predecessor Hosni Mubarak early last year. Hamas is an offshoot of Morsy's Muslim Brotherhood.
Hamas, which has controlled the Gaza Strip since 2007 after routing Palestinian president Mahmoud Abbas's Fatah from the territory neighboring Israel and Egypt, hoped Morsy's election victory would strengthen its position.
Gaza has been under semi-blockade by Israel and Egypt since Hamas took over the enclave. Mubarak eased the blockade under pressure in 2010, but did not allow commercial traffic through the Rafah border crossing as Hamas had hoped.
Morsy met Abbas and Meshaal last week, after saying that he would not favor either of their factions as Egypt attempts to reconcile them.