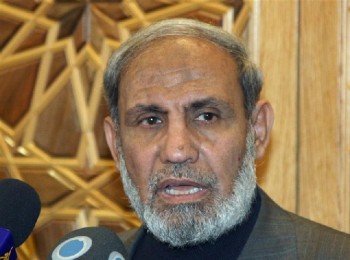 Senior Hamas leader and political bureau member Mahmoud al-Zahhar denied reports Sunday that the movement plans to declare the Gaza Strip a liberated part of Palestine.
London-based Al-Hayat newspaper reported that Hamas is examining the possibility of declaring it a liberated part of the Palestinian state and severing commercial ties with Israel. The paper added that the move has been postponed due to opposition from Egypt and the Palestinian Authority in Ramallah.
In statements to a MENA reporter in Gaza, Zahhar said, "This is the second time such lies [have circulated] to harm the movement."
Asked about Palestinian reconciliation following the group's latest visit to Cairo, Zahhar said the issue remains at a stalemate, and accused the Fatah movement of failing to implement prior agreements.
Zahhar also said that an Egyptian delegation will visit the West Bank and the Gaza Strip to assess the situation first-hand and prepare a report, adding that he is optimistic about the visit and future relations between Egypt and Gaza.
Edited translation from MENA