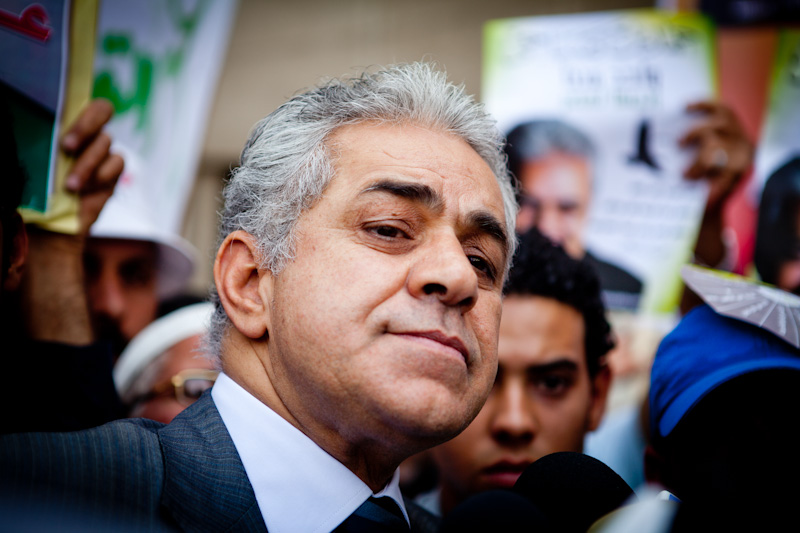 Presidential hopeful Hamdeen Sabbahi has said that if it were up to him, he would tear into pieces the peace treaty signed between Egypt and Israel in 1979.
The Nasserist candidate said he would not recognize a Zionist entity that usurps Arab land.
In an interview with the Iranian Fars News Agency, Sabbahi said he is committed to any international treaty signed by Egypt so long as the Egyptian Parliament has not amended it or its cancellation is put to a public referendum.
Sabbahi said he would support the popular Palestinian resistance and supply Gaza with its needs through the border crossings, based on the people's right to resist occupation.
If Israel would not allow that to happen, Sabbahi said he would not sign the credentials of Israel's ambassador, as a first step toward severing relations.
He said he calls in his election platform for an Egyptian initiative to form an Egyptian-Turkish-Iranian alliance, since relations with Iran had been cut off for no clear reason. Egypt and Iran were victims of an American plot to achieve US interests at the expense of Egyptians and Iranians, Sabbahi said.
Sabbahi said a low turnout in the upcoming presidential election would give way to rigging the outcome of polls, adding that a high voter turnout, as seen in the parliamentary elections, would guarantee against rigging.
Sabbahi also addressed the recent standoff between Egypt and Saudi Arabia following the arrest of an Egyptian lawyer, Ahmed al-Gizawy, by Saudi authorities over charges of drug smuggling.
He said if he were president, he would have sent a private plane to return Gizawy to Egypt or recalled the Egyptian ambassador to the kingdom.
He said Egypt should immediately sever relations with Saudi Arabia if it does not respect the dignity of Egyptians.
Edited translation from Al-Masry Al-Youm