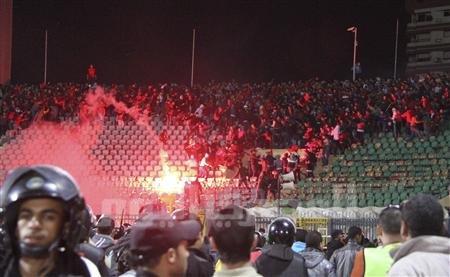 The number of people killed in clashes at Port Said Stadium last week is not more than 71, the Health Ministry said in a statement Thursday, disputing high numbers reported in various local and international news outlets.
Most media reports have put the death toll at 74, while others have said the number exceeded 100. The political affairs committee of the Lawyers Syndicate said Wednesday that more than 73 had died, and suggested that the number may reach 113.
Deputy Health Minister Hesham Shiha emphasized that the number dead is only 71, despite the other reports.
Chaos broke out at Port Said Stadium last Wednesday after fans of the home club, Masry, stormed the pitch following their win over rival Ahly and began clashing with its fans, leaving hundreds injured.
An investigation by the public prosecution has found that businessmen close to Gamal Mubarak, the son of former President Hosni Mubarak and a former senior official in the National Democratic Party, incited the fighting by paying thugs to attack Ahly supporters.
Meanwhile, the number of fatalities reported from clashes between protesters and security forces around the Interior Ministry in Cairo has reached 10, in addition to five more from Suez. Other news sources have reported 11 killed in the fighting in Cairo. Most of the deaths were reportedly caused by birdshot.
Beginning on 2 February, protesters who blame security forces for failing to prevent or stop the stadium disaster clashed with police outside the Interior Ministry. As of early Tuesday there has been a lull in the clashes.
Interior Minister Mohamed Ibrahim denied police used birdshot against protesters in a statement he read to the People's Assembly before being questioned. Many lawmakers said they held Ibrahim responsible for the protesters' deaths.
Shiha added that 27 people are still being treated in Cairo hospitals and three in Suez Public Hospital as a result of the clashes in the two cities.