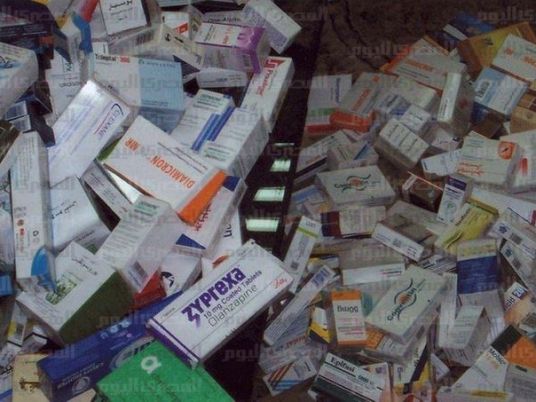 Egypt's Health Ministry said on Monday it has seized a huge unlicensed drugs warehouse containing huge amounts of local and imported medicines, medical solutions that are not available in the local market, kept with the intention to monopolize the drug market, make illegal gains.
The ministry's spokesperson Khaled Megahed said in a statement that this amount of drugs is worth LE32 million, and is the biggest ever seizure of its kind.
He stressed the ministry's continued vital role in the intensive inspection of pharmaceutical drug stores and control over the pharmaceutical market throughout all governorates of Egypt.
Chairperson of the Central Administration for Pharmaceutical Affairs, Rasha Zeyada, said in a statement that the warehouse is unlicensed and that it is located in Nasr City over an area of 200 square meters.
The seizure revealed that it contained thousands of drugs in shortage today, and a huge number of medical solutions, along with large amounts of anesthetics by inhalation, whose use is prohibited by law outside of hospitals, Zeyada said.
She added that the store is managed by a construction worker, and one other person who does not hold a university degree.