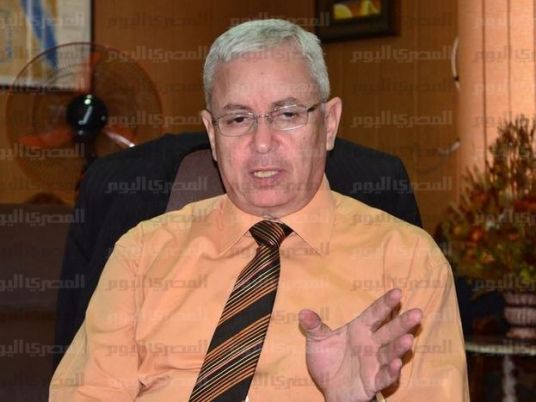 The Muslim Brotherhood will see its final days at Egyptian universities, the Minister of Higher Education Sayyed Abdel Khaleq said as the new academic year began a few days ago with renewed confrontations between MB-affiliated students and security forces.
In an interview with Al-Masry Al-Youm, Abdel Khaleq called Brotherhood students "thugs, terrorists and rogue elements" who seek the destruction of the universities with "foreign funding", as he put it.
The minister, however, denied that the new year had an unexpected beginning.
"I believe the new academic year is a good one. It comes while we have an elected president, national projects, and a firmly rooted state," he added.
In the minister's point of view, obstacles impeding study in the new year lie in "a few disobedient individuals who hold narrow-minded, partisan views", in reference to the protesting students allied with Egypt's ousted president Mohamed Morsy and his group.
"The Muslim Brotherhood is taking its last breath, its members are now outcasts due to their uneven behaviors. Eventually, strict measures need to be adopted with them," said the minister, who however voiced fears that students would confront their Brotherhood-allied peers, which, he said, the group is attempting to achieve.
The minister defended the decision to entrust campus security to the private security firm Falcon Group, hours after company agents reportedly succumbed to overwhelming protests by anti-regime students.
"We had contracted Falcon to control the university gates and prevent intrusion by thugs," Abdel Khaleq said.
Protesting students reportedly smashed electronic gates and assaulted Falcon agents at a number of universities, but the minister believes the company has its excuse.
"(The company) brought its equipment and agents, but were faced with a terrorist hurricane, what could they do?…they are unarmed," the minister argued.
"Following closely, one would discover that Falcon had managed to seize a lot of weapons at university gates on the first day of the new year, which prompted the criminal Brotherhood students to smash the electronic gates," he said.
He denied that the company, which is currently tasked with securing 11 universities, requested to withdraw its assignment, but said, however, that if that occurs, his ministry would be ready with alternatives.
The minister said Article 184 of the university regulation law, installed last year by former interim president Adly Mansour, would be applied against violators at universities. He explained that the article, concerned with terrorist activities inside campus, stipulates dismissal from the university for any student involved in violence. Abdel Khaleq maintained that arrested students would not be allowed to undergo their exams in detention like last year.
The minister said he does not mind that police enters campuses, but said he does not want police existence on campus to be depicted abroad as turning universities into barracks. He said, however, that the private security company is not meant as an alternative to police but rather as a sort of assistance.
Abdel Khaleq reiterated that political activism is banned within universities, but "political awareness" is allowed through forums hosting public figures in all fields "provided that he/she has no partisan affiliation."
Edited translation from Al-Masry Al-Youm