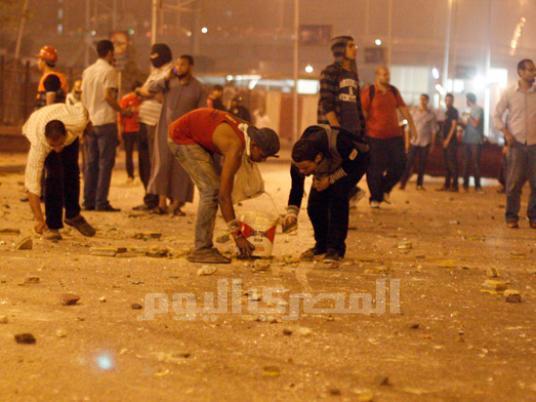 Thousands of protestors are marching in a rally that started from Fatah Mosque in Ramses Square on Thursday evening heading to Abbasseya, where 11 protesters were killed by suspected supporters of Egypt's military rulers.
The march came as an expression of support with protesters holding a sit-in outside the Defense Ministry who have been facing continuous attacks by thugs for the past five days.
Security officials said the clashes broke out at dawn when assailants set upon several hundred protesters who had camped out in the area since early Saturday. Hospital officials said nine of the 11 killed died of gunshot wounds to the head. The other two were stabbed to death.
Political activists, members of the political movements and ordinary citizens are among the people participating in the march.
The protesters chanted slogans denouncing military rule and demanding its departure. Socialist Activist Kamal Khalil led the chants which included, "Oh Tantawi, a second revolution…Egypt will not turn into Romania," and "Turn on the lights Bahiya, all military men are thieves." They also chanted slogans demanding the return of the armed forces to the military barracks such as, "A Supreme Council of the Armed Forces made for Pashas must return to the barracks."
An Egypt Independent reporter said that the march is getting a positive reaction from people in the street and the number of people joining the march is increasing.
The reporter added that Abbasseya residents are cheering for the marchers from their balconies.
Troops and police deployed in the area around the Defense Ministry had not intervened in earlier attacks there and at first did nothing to stop the killings Wednesday, leaving the clashes to continue until noon when they moved in.
But later in the afternoon, the armed forces withdrew from the Abbasseya district, leaving behind Central Security Forces and a huge security cordon around the Abbasseya bus stop, Al-Masry Al-Youm reported.
Dozens of protesters lined up in front of the Central Security Forces, some chanting slogans such as "Down, down with military rule" and "Ganzouri is invalid…the Field Marshal is invalid."