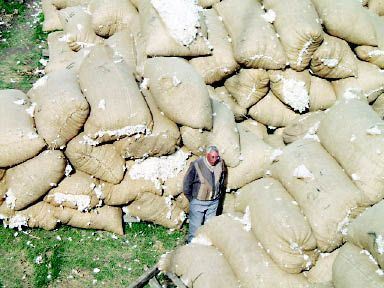 Government textile companies are expected to be negatively affected by a recent decision from the Agriculture Ministry to ban the import of short staple cotton on which they rely to produce 75 percent of their output, according to a textile holding company.
Ahmed Mostafa, head of the Cotton and Textile Industries Holding Company which runs 32 public sector firms, said the new decree means obliging local producers to rely on long staple Egyptian cotton, which, he said, "resembles a squandering of public funds" given the high prices of Egyptian cotton compared to the imported one, a difference of LE200 per quintal, he said.
While short staple cotton accounts for 97 percent of world production, long staple cotton represents only 2.5 percent, according to Mostafa.
Mostafa maintained that government factories would never use local cotton in their products, and revealed that several manufacturers had reported their position to the industry ministry.
Mostafa accused the Agriculture Ministry of adopting an "ill-advised" decision and encroaching upon the authority of the Foreign Trade and Industry Ministry.
Edited translation from Al-Masry Al-Youm