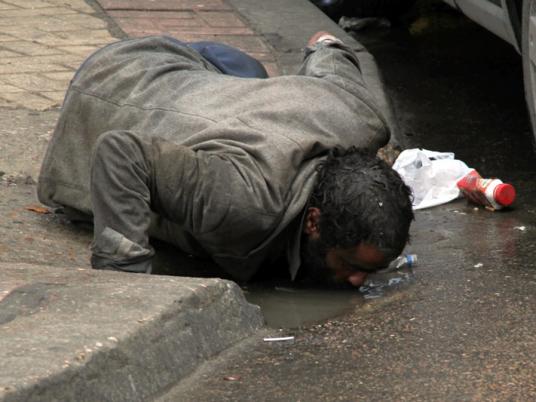 In this winter, during one of the coldest in years, many are wearing heavy clothes, covering themselves with blankets, using heaters and having hot drinks while the homeless on the streets are less fortunate against the cold.
Mohamed Ragab, a 51-year-old shoe polisher, lives with his three children on the street after his house in the poor neighborhood of Sayeda Zeinab collapsed. Next to him sits his wife and sells tissue paper. "This blanket is our roof for tonight," she says.
"I need at least LE200 a month to rent a room," says Ragab. "I don't make that much thanks to the liquid polish that is sold everywhere."
A few steps away sits a 60-year-old woman covered with a blanket. "My daughter doesn't want me to live with her in her house," she says. Her husband divorced her after 24 years of marriage and left her without money. "One day kids stole my blanket and I had to sleep without it in the cold," she says. "They sold it to buy cigarettes."
Khaled Ibrahim Nawar is 47 years old. He has been living on the street for 17 years since his brothers kicked him out of the house after his father died.
"I collect two kilos of tin cans and sell them for LE14," he says. "The street is kinder to me than my brothers."
A 50-year-old woman has been living on Sabri Abu Alam Street for 33 years since her husband divorced her and took her child. "I love cats," she says. "I share with them whatever food I get."
On the opposite sidewalk to the High Court Complex sleeps 40-year-old Mohamed Mostafa covered with a blanket. He works in a cafeteria all day and sleeps there at night. "I make LE40 a day, not enough to rent a room," he says. "But I try to save whatever I can."
Mohammed Abbas is 23 years old. He was a carpenter, but his father kicked him out of the house when he was injured in his right arm and could not work anymore. "My wife went to live with her parents and I came to live on this street here," he says. "I go hide under any balcony when it rains."
Saeed Awad is 84 years old. He has been living on the street for 27 years. He frowns when somebody asks him about his family.
A campaign was launched to help the homeless after Sudanese artist Mohamed Hussein Bahnas died from a severe cold wave. "We are a group of young volunteers helping the homeless," says Toqa Sherif, the spokeswoman of the campaign. "We give them food and blankets."
Edited translation from Al-Masry Al-Youm