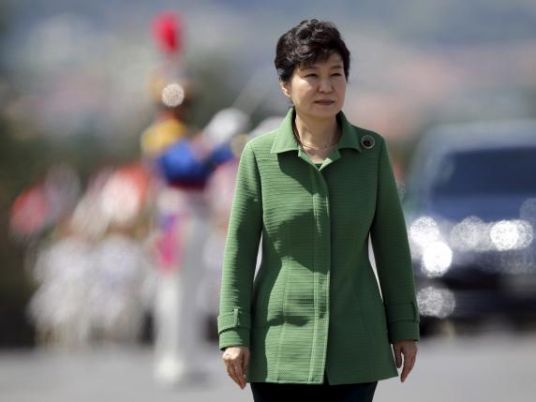 SEOUL (Reuters) – North and South Korea opened a liaison office on the North's side of their heavily militarized border on Friday, setting up a permanent channel of communication as part of a flurry of efforts to end their decades old rivalry.
Steps by North and South Korea to improve their relations are running parallel to a bid by the United States and its allies to press North Korea to give up its nuclear weapons and ballistic missile programs.
The opening of the joint liaison office at Kaesong, just inside the North Korean side of the border, comes days before North Korean leader Kim Jong Un and South Korean President Moon Jae-in are due to hold their third meeting this year.
"The two sides are now able to take a large step toward peace, prosperity and unification of the Korean peninsula by quickly and frankly discussing issues arising from inter-Korean relations," said Ri Son Gwon, the head of North Korea's delegation at the opening ceremony.
The two Koreas previously communicated by fax and special telephone lines, which were often severed when their relations took a turn for the worse.
Now they will now be able to "directly discuss issues 24 hours, 365 days", South Korea's Unification Minister Cho Myoung-gyon said at the ceremony.
The office will be staffed by up to 20 people each from the two sides with the South Koreans on the second floor and the North Koreans on the fourth floor of the four-story building.
Vice minister-level officials will head their teams at the office and will attend weekly meetings, the South Korean Unification Ministry said.
The office is at the site of the Kaesong industrial complex, where for about a decade, South Korean companies ran production lines staffed by North Korean workers at the industrial park.
The park, once the most striking symbol of inter-Korean cooperation, has been closed since February 2016 when tension on the peninsula spiked after North Korea conducted its fourth nuclear test.
South Korea's Unification Ministry spokesman Baik Tae-hyun said this week it was hoped the liaison office could also help the United States and North Korea in their negotiations.
"We hope that this will also help the progress of denuclearization talks between North Korea and the United States," Baik said.
Moon and Kim, who agreed on a series of steps to improve ties at an April summit, will meet in the North Korean capital of Pyongyang next week, when it is hoped they can help end an impasse between the United States and North Korea.
South Korea had hoped to open the office by August but it was delayed when denuclearization talks between the United States and North Korea stalled after an historic summit between Kim and U.S. President Donald Trump in Singapore in June.
However, Kim sent a message to South Korean envoys last week saying he wanted to achieve denuclearization during Trump's first term.
That followed what Trump described as a "very warm" letter from Kim requesting another meeting, which rekindled hopes for progress.
Reporting by Joyce Lee; Editing by Paul Tait, Robert Birsel.