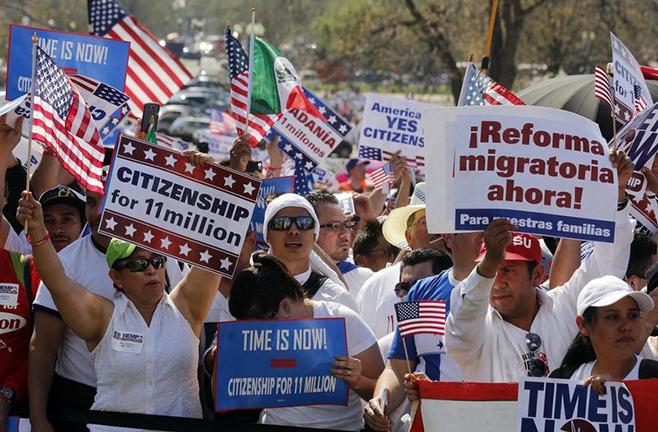 U.S. House of Representatives Speaker Paul Ryan sought to head off revolts on Wednesday from the right and center of his Republican Party as lawmakers battled over legislation that would protect young illegal immigrants from deportation.
At a morning news conference after huddling privately with rank-and-file Republicans, Ryan warned a small group of moderates that it would be a "big mistake" if they kept pushing a procedural maneuver to force a series of votes on four separate immigration bills.
Some Republicans worried such a debate could lead to a bipartisan immigration bill passing that might anger conservative Republicans at an inopportune time, with November elections approaching.
Majority Leader Kevin McCarthy told fellow Republicans at the closed-door morning meeting that things were going well for them, and "let's not create a problem of our own making," one House Republican lawmaker said, asking not to be named.
Ryan said he was working with the White House on a measure that would win President Donald Trump's support. At the news conference, Ryan did not provide details or a timetable for advancing such legislation.
So far, 20 of the House's 235 Republicans had signed a petition to force an immigration debate that would allow the bill with the most votes to advance to the Senate.
They want to join forces with Democrats to pull off the rare procedural trick in defiance of leadership. Some of the 20 signatories are retiring, while some others are moderates seeking re-election in November and represent districts with a significant number of Hispanics.
One of the four immigration bills, a bipartisan measure, would put the young "Dreamer" immigrants who were brought to the United States illegally when they were children, on a path to citizenship
Representative John Faso, a Republican who has signed the petition, told reporters: "I'm not happy with inaction" and noted that "time is running out" for Congress to do something about immigration before November elections.