An Egyptian archeological mission operating in Mit Rahina announced the discovery of a huge archaeological building in the Hoad al-Demerdash area, about 400 meters north of the Mit Rahina museum in Giza.
The size of the building is 17 meters x 14.5 meters, Secretary General of the Supreme Council of Antiquities Mostafa al-Waziry said.
It is most likely part of a residential area, he added. The building is made of bricks supported by massive limestone block, with its foundations, external walls and inner staircase constructed using red bricks, he added.
Head of the Central Department of the Antiquities of Cairo and Giza Adel Okasha said that another smaller building was found southwest of the larger discovery. The small building consists of a Roman bathroom and another room likely used for religious rituals.
A holder for limestone pots decorated with the head of the ancient Egyptian god Bes was found in the room. Special purification basins and small limestone columns were also discovered, according to Okasha.
The huge building has an entrance from the east built from limestone blocks.
To the right  is another entrance leading to a hall that is 170 cm wide eight meters long. At the end of the hall to the north is a 70 cm width entrance that leads to a 3.80 meter x 3 meter wide room, likely used for the practice of religious rituals. A similar room is also found on the south side of the hall.
Another limestone entrance with a width of 112 cm and a height of 106 cm was discovered on the northern side of the huge building. On its right side, there is another entrance leading to a staircase, according to Okasha.
A room attached to the outer wall of the building, most likely used for servants, was found in the northeastern corner of the building. A baking oven tile similar to that used in modern times in Egyptian villages was found in that room.
Okasha said that the mission will complete excavations and studies to uncover the rest of the building.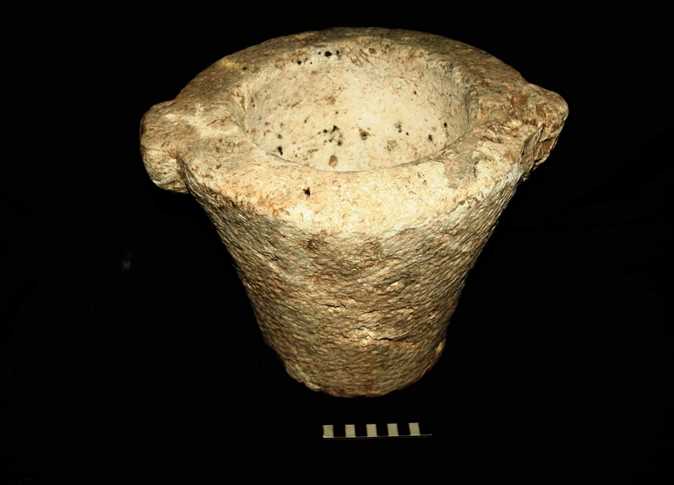 Edited translation from Al-Masry Al-Youm