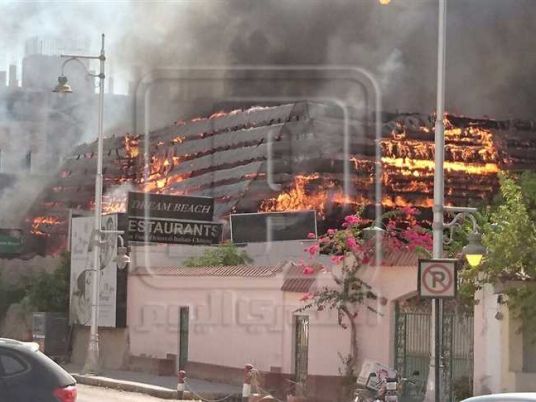 Firefighters in Hurghada extinguished a huge fire at a health club and restaurant on a private beach on Sunday.
No casualties have been reported by officials so far.
Five fire trucks were rushed to the scene, as well as ambulances, with emergency services anticipating casualties among staff at the health club and restaurant.
Police officers cordoned off the area and halted traffic while the fire was put out.
According to firefighters, holiday seasons such as the recent Eid al-Ahda Muslim feast mean an uptick in fires at homes and venues such as hotels and restaurants. These are often asssociated with gatherings at which meals are prepared.
Firefighters also cite a range of other dangers, such as faulty wiring, negligence and strong winds in springtime that cause fires to spread more easily.
In June, the Head of the General Directorate for Civil Protection, Mohamed Saqr, said the fire fighters had received 12,838 reports of fires from the beginning of January until the end of April this year. Saqr said that negligence was behind 12,452 of these fires, making up 97 percent of the total incidents reported.
Earlier this year, a string of fires across Egypt grabbed media headlines, with many claiming that arsonists had been deliberately setting fires in some cases.
The largest and most serious in terms of casualties — with three killed and more than 90 injured — occurred in early May, when a hotel and market in Cairo's Attaba district were gutted by fire. Some shopkeepers said they suspected arson.
A week later, another fire started in Cairo, this time at the headquarters of the Cairo Governorate, further stoking speculation of deliberate intent.
The same week, a number of smaller blazes were reported in the media, including one on a rooftop and one in a car near to the High Court building in Cairo. In most cases, officials said the cause was likely to be electrical short-circuits.
At the time, MP Fouad Badrawy called on Prime Minister Sherif Ismail to launch an investigation into the fires to determine whether arsonists were responsible, but no such evidence emerged, despite official investigations.