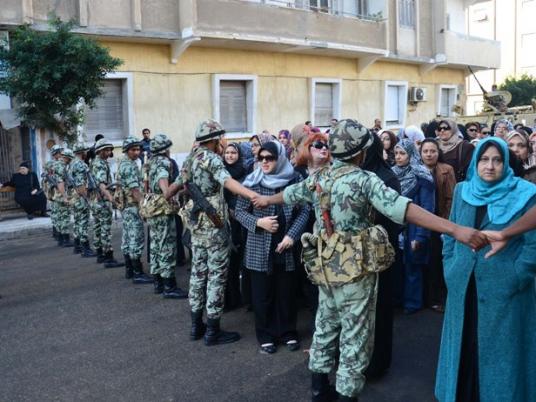 Although it wasn't enforced during the first phase of the constitutional referendum on 15 December, President Mohamed Morsy's recent decree empowering the Armed Forces to arrest civilians is still worrying.
Issued on 9 December, Law 107/2012 allegedly aims at guaranteeing security in andaround polling stations. On 11 December, the president's office announced that the new law would not allow the army to refer civilians to military tribunals. But given the Supreme Council of the Armed Forces' recent history of putting numerous civilians up for military trials, human rights activists are skeptical.
It is estimated that over 12,000 civilians have been tried before military courts since the outbreak of the 25 January revolution.
Heba Morayef, a researcher for the Human Rights Watch bureau in Cairo, explains that Article 3 of this law stipulates that the Armed Forces should hand over those arrested to the appropriate prosecution, "without prejudice to the jurisdiction and authority of the military justice system." However, "It does not mention the specific prosecutor to which civilians are to be referred," she says.
Moreover, while the Morsy administration claims that the decree was passed to protect the resolution, this is not indicated in the way the law is worded. Article 2 stipulates that the army has the power to arrest civilians who obstruct the referendum process or who violate regulations inside or outside polling stations. However, this article also empowers the army to arrest civilians in any other situation, as well.
"This article does not attempt to limit or even specify the powers of the Armed Forces under these conditions," Morayef continues. "It is normal to deploy Armed Forces outside the polling stations and to grant them authority to provide security, yet there is a lack of oversight" as to what they can and cannot do, she says.
During his presidential campaign in June, Morsy told Qatar-based Al-Jazeera that SCAF had issued "a strange decree" allowing the Armed Forces to arrest civilian troublemakers outside polling stations. Morsy said at the time that the decree "raised suspicions because it was issued immediately before the elections."
He added that "givingmilitary intelligence officers, who are not known to the public, the right to judicial arrest warrant — based on their own assessments – will be open to abuse, in particular with voters, and the electoral process itself."