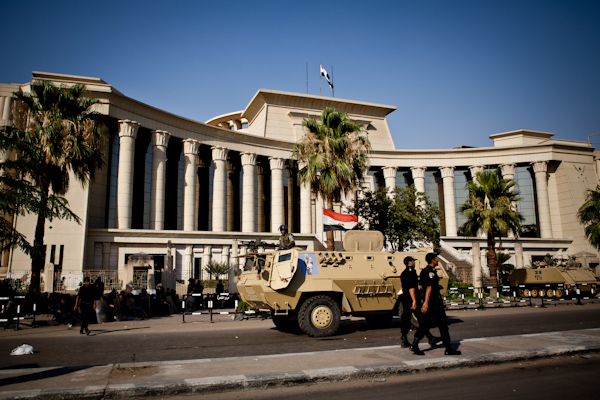 A civilian judge's appointment to investigate the involvement of three former military leaders in the abuse of protesters is an opportunity for redeeming accountability, said the New York-based Human Rights Watch (HRW) in a statement released on Friday.
The state-run MENA news outlet reported on 15 October that Judge Tharwat Hammad was appointed by the Cairo Court of Appeals to investigate complaints filed by private citizens against former head of the Supreme Council of the Armed Forces Field Marshal Hussein Tantawi, former Chief of Staff Sami Anan and former head of military police Hamdy Badeen, accusing them of violence against protesters.
In the statement, HRW described its documentation of the detention and torture of hundreds of protesters between January 2011 and June 2012, the transitional period when Egypt was ruled by SCAF following the toppling of former President Hosni Mubarak.
HRW has long criticized the fact that military courts were single handedly hearing these cases, allegedly because they had jurisdiction over acts committed by military personnel.
"In the only two cases referred for trial, military prosecutors did not examine senior commanders' responsibility, including whether they gave orders to commit abuse or failed to prevent crimes by subordinates," the statement read.
Joe Stork, deputy Middle East and North Africa director at HRW, said, "Over the past year and a half, the military has been getting away with murder, torture, and sexual assault, because military investigators were unwilling to seriously investigate their own."
"If backed by full support from the political authorities, this civilian investigation could become the first serious step toward reversing the impunity the military has enjoyed so far," he added.
The charges against SCAF offiials included responsibiltiy for the beating of citizens and protesters on 16 December by military police, including dragging a woman down a street and stripping her to her bra, as protests broke out next to the cabinet building. Complaints were also filed against the torture of protesters in March 2011 and May 2012 in downtown Cairo and Abbasseya Square respectively.
According to HRW, only two cases of military abuse were investigated by military prosecutors, including the assault in March 2011 on women protesters in detention, an act called "virginity tests" by military leaders. The other case was of the killing of 27 mostly Coptic protesters in October 2011 when their march was violently dispersed next to the Maspero state television building.
"Neither investigation included the responsibility of any senior commanders, however … The investigations and trials in these two cases underscore the continuing failure of the military justice system to investigate those at senior level even when faced with strong evidence of crimes," HRW said. "This is hardly surprising, because the military justice system, including the prosecutors and judges, are not independent of those they are investigating, and remain in the same chain of command."
The possible prosecution of Tantawi and his aides has been a contentious matter, especially after President Mohamed Morsy sent them to retirement in August and appointed them as advisors, honoring them in a gesture that was largely interpreted as a safe exit.
Last week, in an unprecedented move a chief editor of a state-run daily was sacked for publishing news about Tantawi and Anan being banned from traveling. Ahmed Fahmy, president of the Supreme Press Council, fired Gamal Abdel Rahim, chief editor of Al-Gomhurriya daily, for running a story about a travel ban on the former military leaders, pending their investigations.