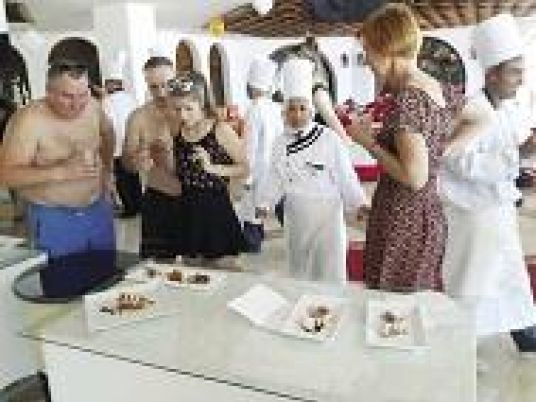 "Necessity is the mother of invention," was the slogan raised during the cooking festival in Hurghada, which concluded on Thursday.
Chefs of different hotels in Hurghada came up with the idea of ​​the festival after recession hit the tourist governorate in the wake of the Russian plane crash in Sinai, especially given that food is one of the new tourism attractions around the world.
"We organized the contest which aimed to enhance the experiences of chefs and to train younger generations of chefs on cooking, which will be reflected on the activity of tourism," said chef Mahmoud Abdel Sadeq.
A ceremony to honor the winners was held following the contest, he said.
The contest will contribute to raising the level of service provided to tourists, as young chefs were trained through this festival on different types of Egyptian and European food, said Abdel Sadeq.
Twenty young chefs participated in the contest from different Hurghada hotels. Tourists who tasted the food were the jury in the contest and handed over the prizes to winners.
Edited translation from Al-Masry Al-Youm