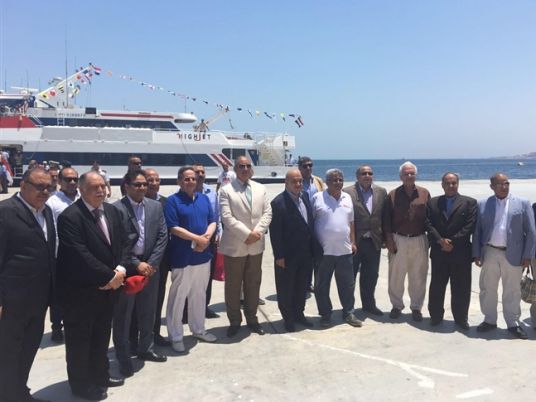 La Pes Pes passenger ferry set sail from Hurghada this morning, heading to Sharm El-Sheikh on her first crossing in three years.
Tourism Minister Yehya Rashid, Chairman of the Red Sea Ports Authority Hesham Abu Senna, and Red Sea governor maj-gen Ahmed Abdallah were on board the ferry for her first cruise since the service was halted in 2013.
Spokesperson for Red Sea Ports Authority, Malak Youssef, said that the Hurghada
—
Sharm El-Sheikh crossing, which can transfer up to 150 passengers at a time, is expected to stimulate the flow of tourism between the resort towns.
The ferry, 41 meters long and 11 meters wide, will make the crossing twice a week, on Sunday and Thursday.
South Sinai governor maj-gen Khaled Fouda is scheduled to see the ferry into the docks at Sharm El-Sheikh.
The commander of La Pes Pes, Awad Abdel Samee, interviewed in May, said that the crossing provides a convenient alternative to the long drive around the Red Sea by land. The ferry trip takes two and a half hours, as opposed to the nine-hour trip around the bay by bus, he said.
One-way tickets will cost LE370 and return tickets LE630.
Edited translation from Al-Masry Al-Youm