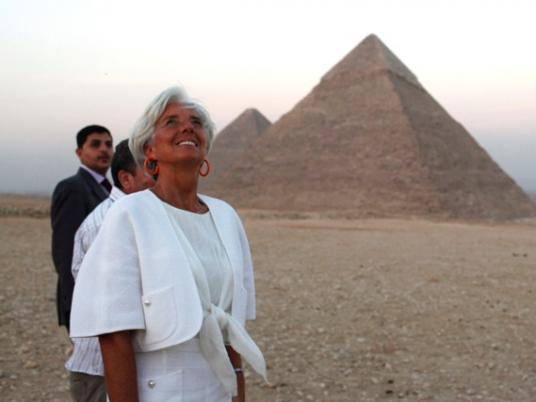 An International Monetary Fund team will arrive in Cairo next week to resume discussions on a US$4.8 billion loan that Egypt has requested to shore up its finances, an IMF spokeswoman said on Wednesday.
Egypt desperately needs financial support to plug budget and balance of payments deficits that have mushroomed since the popular uprising last year that ousted President Hosni Mubarak.
Various Egyptian governments have been negotiating for an IMF loan for the last year and a half. The government of president Mohamed Morsy officially asked for a $4.8 billion loan soon after it was appointed in August, and an IMF team arrived for initial talks in September.
The IMF wants Egypt to take long-term steps to narrow a budget deficit that has grown to 11 percent of gross domestic product since the uprising, and measures to reduce costly state fuel subsidies will be key to any deal.
Many foreign investors are waiting for an IMF agreement before venturing back to Egypt.
"The IMF technical team, headed by Andreas Bauer, will visit Egypt at the end of the month to start talks on an Egyptian economic reform program," Wafa Amr told Reuters in an email.
Bauer is the IMF's division chief for the Middle East and Central Asia.
Al-Borsa newspaper quoted a Finance Ministry official on Wednesday as saying the mission would arrive on Tuesday.
Egypt has been drawing up a economic reform program that it plans to open up for public discussion and use as a basis for negotiations with the IMF.
The program includes a cut in energy subsidies that now eat up around a quarter of total government spending. A minister said this month that the scale of energy subsidy cuts planned for fiscal 2012/13 would not be realized because of delays in implementing restructuring.
Officials have said the government also wants to expand the sales tax into a full value-added tax, a move that was part of a program discussed by the government under Mubarak.