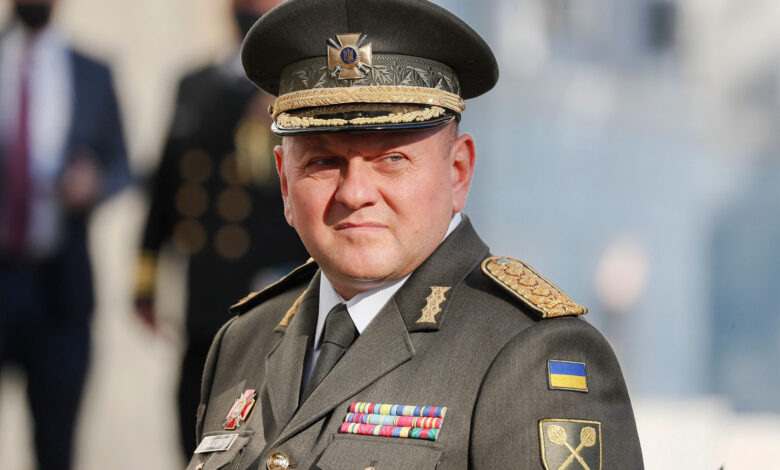 Ukraine's top general has predicted that the war against Russia will last beyond this year, and acknowledged the effect of Moscow's nuclear arsenal in discouraging greater involvement from Ukraine's allies.
In a wide-ranging and revealing analysis published by Ukrinform, Ukrainian state media, on Wednesday, Commander-in-Chief of the Armed Forces General Valeriy Zaluzhnyi said there is "no certain final outcome in view."
"There is every reason to believe," writes Zaluzhnyi,in a piece co-authored with Lieutenant General Mykhailo Zabrodskyi, First Deputy Chairman of the National Security, Defense, and Intelligence Committee of the Verkhovna Rada (parliament), that the conflict "is not going to end anywhere within 2022."
The pair also raised a series of interesting tactical points:
Ukraine needs to increase the distance over which it can strike against Russia. "Only by balancing out the weapons' operating range, thus disturbing the said center of gravity for the enemy, can we get to a turning point in the ongoing war," they write. The generals say that they believe that being able to strike further into Russian-held territory in Ukraine would also address the fact that ordinary Russians do not feel "all the losses, failures, and most importantly, costs of this war in all its senses."
Strikes on Russian bases in Crimea last month are an example of this approach. "This was done by a series of successful missile strikes on the enemy's Crimea-based air bases, first of all, the Saki airfield. The task of the Armed Forces of Ukraine for 2023 is to make these experiences even sharper and more tangible for the Russians and for other occupied regions, despite the massive distance to the targets," they write, the most explicit that Ukrainian officials have been so far in acknowledging the strikes.
Arms deliveries from allies have been held up because of a lack of understanding of the scale of the war. "It remains difficult for the modern-day populations worldwide, primarily for Europeans, to even fathom World War 2-style combat operations in real life," they write.
The threat of Russia's nuclear arsenal has also discouraged greater arms shipments. "The possibility of direct involvement of the world's leading powers in a 'limited' nuclear conflict, bringing closer the prospect of World War 3, cannot be completely ruled out either," they write.
Russia is aiming to capture all of the Donetsk region in the east, said the generals, and could take over Mykolaiv and Odesa in the south if they manage to advance on the right bank of the Dnipro River. This would allow Russian forces to threaten the city of Kryvyi Rih in the center of the country, and renewed efforts to take over Kyiv "cannot be ruled out either," they add.