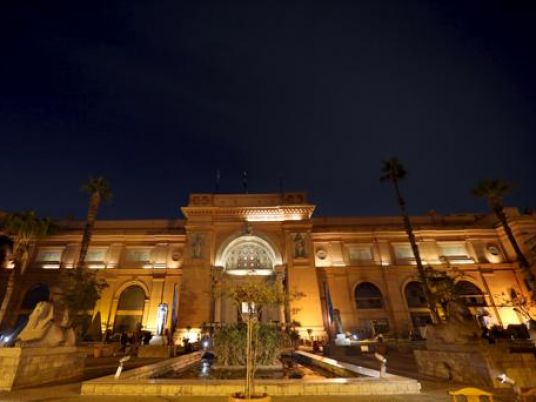 The Ministers of Antiquities, Tourism, and Youth, the Italian ambassador to Cairo Giampaolo Cantini, and 16 ambassadors from foreign countries inaugurated on Thursday a path developed for people with special needs in the Egyptian Museum at Tahrir Square.
According to Masrawy news website, the track includes 12 artifacts belonging to the various ages of the ancient Egyptian civilization including the Early Dynastic Period, Old Kingdom, Middle Kingdom, Late Period, and the Graeco-Roman Period.
The artifacts displayed on the path include the Narmer Plate, the Triad of King Menkaura of the Fourth Dynasty, the miniature of the pyramid of King Amenemhat III of the Twelfth Dynasty, the statue of King Amenemhat III of the Middle Kingdom in the form of the Sphinx, and the statue of Sinifer and his wife from the 18th Dynasty.
The statues also include King Amenhotep II, the goddess Meretseger of the 18th Dynasty, Amenhotep the son of Hapu of the 18th Dynasty, the goddess Sekhmet in a sitting position, King Ramses II, and a coffin in human form from the era of King Psamtik II of the 26th Dynasty.
The pieces chosen to be displayed on the track are made of Egyptian stones, such as granite. Blind people can walk through the path and identify the pieces via cards written in Braille and electronic sound devices.
The initiative comes within the framework of cooperation between the Egyptian Museum, the Italian Cultural Institute in Cairo and the State Tactile Museum Omero in Italy as part of the Italian Foreign Ministry's program to back world cultural heritage.
A training course was held in cooperation with the Italian side for a group of museum curators at the Egyptian Museum from June 16 to19 on how to guide blind visitors in museums.
Egypt has taken advantage of the State Tactile Museum Omero's experience developing a similar track for people with disabilities, aiming to provide equal opportunities for people with disabilities to enjoy art and heritage and access archaeological museums.