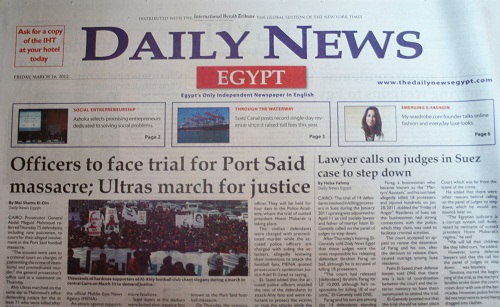 Following recent block of 21 news websites in Egypt over charges of supporting terrorism or being financed by the outlawed group of Muslim Brotherhood, one of Egypt's leading independent English online and print publications, Daily News Egypt (DNE), stated that its websites have been blocked by anonymous state authorities.
According to a statement released by Daily News Egypt on Sunday, the recent block practiced against a number of local and Arabic news outlets in Egypt extended to include its sister publication Al-Borsa.
Daily News Egypt's statement expressed condemnation against what it called the government's "persistent crackdown" against them, saying that the DNE's administration discovered the block, despite the fact that both DNE and Al-Borsa were not included among the list of websites recently blocked.
"The two newspapers filed a memorandum to both the Journalists Syndicate and the Supreme Press Council on Sunday, regarding the websites licensed by the Supreme Council of Journalism that are operating in accordance with the law, both of which have been unjustifiably blocked, without any explanation or prior notification," the statement read.
Daily News Egypt added in its statement that the above mentioned block is considered just one violation, among numerous other ones, that started when shares and accounts of Business News, the company issuing the newspapers were frozen.
Moreover, the statement added that there was a recent escalation from the government when security individuals barged into its headquarters with the claim of checking the ownership of computer applications used there.
However, the storm's main purpose was to inspect Daily News Egypt's archive for unknown reasons, according to the statement.
For two consecutive years, in 2014 and 2015, Egypt's President Abdel Fattah Al-Sisi published two articles in Daily News Egypt about the state's economic policies as a message to foreign investors who took part in the Euromoney conference organized by the newspaper.
In their statement, Daily News Egypt and Al-Borsa pointed out the two articles published by Al-Sisi during the Euro money conference, adding that Al-Sisi stressed in these articles on the importance of DNE and its credibility with the Presidency.
The both newspapers of DNE and Al-Borsa denied their affiliation to MB group or the charges of receiving financial from this group, moreover the statement noted that both publications will continue to offer their services outside of Egypt, as both are accessible from abroad.
The statement concluded its message by calling on all concerned authorities to take on their responsibilities and stop these violations that may leave negative effect on the reputation of the Egyptian investment and the freedoms.