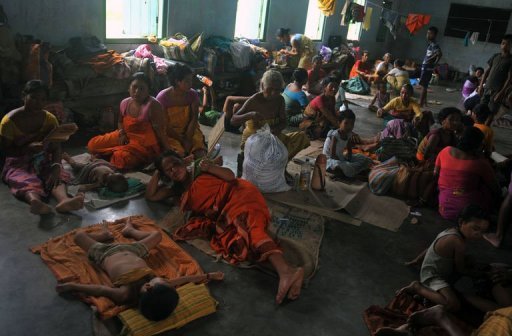 The death toll from ethnic unrest in India's northeast rose to 50 on Saturday while at least 400,000 languished in relief camps as Prime Minister Manmohan Singh visited the conflict-hit area.
The national government has dispatched medical teams to Assam to tend to the victims of the fighting that erupted eight days ago between indigenous Bodo tribes and Muslim settlers over long-running land disputes.
The chief minister of far-flung Assam state, Tarun Gogoi, said the region was now calm after what he called "unprecedented" violence as the focus shifted to providing relief to the 400,000 people who fled their homes.
The death toll climbed to 50 as police reported in a statement that the bodies of five more people killed in the riots had been recovered.
Singh, who represents Assam in the Indian parliament's upper house, was slated to tour relief camps on Saturday accompanied by ruling Congress party chief Sonia Gandhi.
The chief minister described the violence as the worst crisis his government has faced, with rival groups from both sides attacking villages, beating people to death with sticks and burning down homes.
People in the camps have said they were afraid of returning to their homes.
"We are living in fear and we can't even think about going back to our homes," Bimla Basumatary, one of the displaced, told India's NDTV television network.
Gogoi has blamed Singh's government for the escalation in violence, saying it failed to send troops immediately after the unrest erupted.
Now at least 3,000 extra soldiers and paramilitary personnel are patrolling the region.
The international rights group Human Rights Watch said tensions had been building for more than two months between the Bodo and Muslim communities, which have clashed in the past over access to land and resources.
The group urged authorities to rescind the "shoot-on-sight" orders and "promptly investigate and prosecute those responsible while addressing the underlying causes of the clashes".