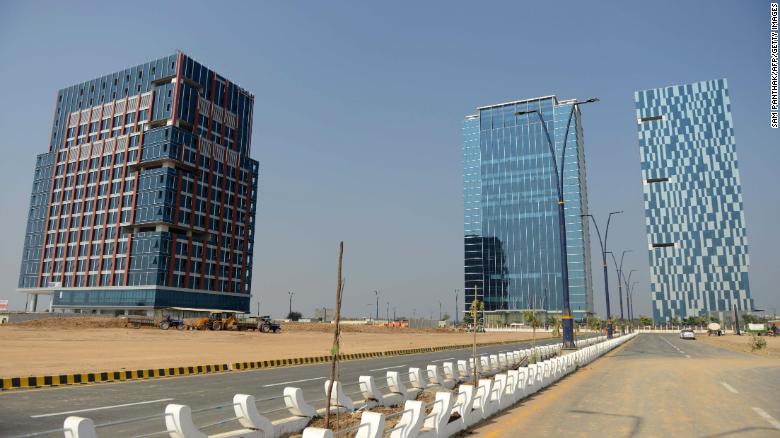 (CNN Business)–India is building a new city to give global investors an easy way into its booming economy.
Gradually mushrooming on an otherwise barren 886-acre parcel of land in Gujarat — Prime Minister Narendra Modi's home state — is a small collection of buildings that India hopes will one day rival financial centers like Singapore, Dubai and Hong Kong.
It's called Gujarat International Finance-Tec City, or GIFT City.
"Except for the fact that we are not sitting in Singapore and GIFT City is not Singapore, I think from a business perspective we have everything that is required," Ajay Pandey, the city's CEO, told CNN.
Two stock exchanges were established in the city last year, and government exemptions recently made trading virtually tax-free. The city will also have its own financial regulator, part of an effort to reduce red tape and bureaucracy faced by foreign investors.
"Eventually GIFT city should become a vehicle or a place for people from across India like Hong Kong has acted for China in the last 30 or 40 years," said Bombay Stock Exchange CEO Ashishkumar Chauhan.
"We think the India INX will provide a platform to corporates and investors from abroad to meet, trade and invest in the growth story of India," he added.
Investors are taking notice — when trading started 15 months ago, the exchange hosted daily trading
worth around $1 million. On Monday, that number crossed $500 million for the first time.
"The moment you hit close to half a billion dollars, that's the time that some of the big names of the world — JP Morgan (JPM), Morgan Stanley (MS) and others — begin to step in," said Pandey. "Things are beginning to roll."
Next on the agenda? Getting people to actually live there.
The city currently consists of just a handful of structures — three large office buildings to which workers are bussed from surrounding areas, a school and a data center. Its first residences will be ready by May, and a four-tower World Trade Center complex is expected to be completed in the next two years.
Transportation links are good: Ahmedabad airport is only a 25 minute drive.
GIFT City has already attracted close to $2 billion in real estate investment, and Pandey expects that number could eventually rise to nearly $11 billion.
The CEO admits that competing with Singapore or Hong Kong is still a long way off.
"Those cities were not built overnight… we have a lot of catching up to do," he said. "If you look at it, the right set of building blocks are being put in place."
By Rishi Iyengar, CNN Business