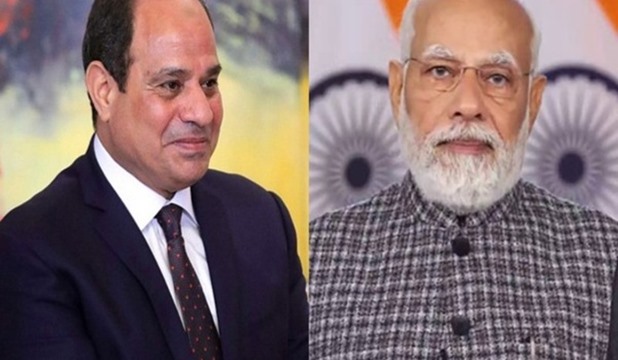 Indian Prime Minister Narendra Modi voiced high appreciation of Egyptian President Abdel Fattah El Sisi and his wise leadership which maintained security and stability of Egypt and its state institutions after a spate of violence and riot hit the region in the period known as the Arab spring.
He added that President Sisi managed to realize unprecedented development in Egypt.
He added that Sisi's attendance of celebrations of India's Republic Day as a guest of honor adds a special flavor to the event.
This came during his talks with President Sisi in New Delhi.
Egyptian Presidential Spokesman Bassam Radi said Sisi and Modi held a closed session during which the Indian premier welcomed Sisi as a dear guest.
For his part, Sisi voiced gratitude for the hospitality of the Indian Premier who invited him to the visit.
Sisi said this reflects the depth of the historic ties binding the two countries,
The spokesman said the talks tackled means of furthering bilateral cooperation at all levels, noting that the Indian premier is looking forward to boosting mutual investments and upping the volume of trade exchange between the two sides.
Sisi welcomed bolstering cooperation between the two sides in various domains in view of the great potentials of both countries, especially at the military, economic, commercial, touristic and cultural levels.
The spokesman noted that the talks tackled the latest developments on a host of regional and international issues of mutual concern.
The Indian premier lauded Egypt's positive role in regional settlement as well as its efforts to combat terrorism and extremist thought and entrenching the values of accepting the other, freedom of choice and tolerance.
Sisi and Modi participated in the protocols of cooperation memos in the fields of IT, cyber security, youths, radio, and culture.
They held a joint press conference. MENA