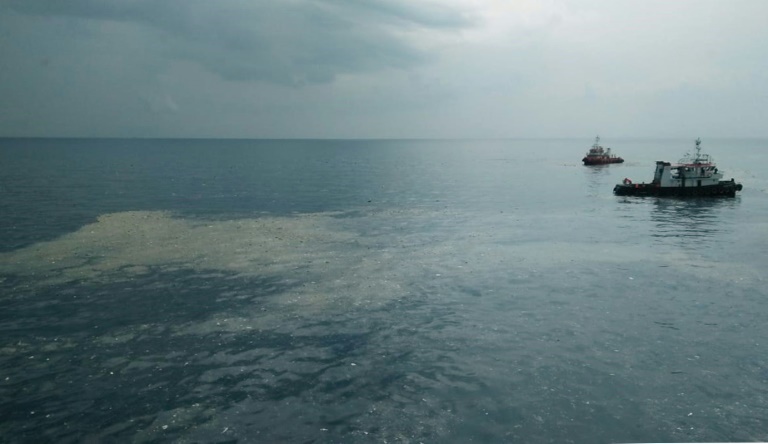 A brand new Indonesian Lion Air plane carrying 189 passengers and crew crashed into the sea Monday, officials said, moments after it had asked to be allowed to return to Jakarta.
The Boeing-737 MAX, which went into service just months ago, vanished from radar 13 minutes after taking off from the Indonesian capital, plunging into the Java Sea.
Video footage apparently filmed at the scene of the crash showed a slick of fuel on the surface of the water.
Disaster agency spokesman Sutopo Purwo Nugroho tweeted pictures of debris, including what appeared to be an emergency slide and various parts of a smashed mobile phone.
Authorities were still searching for the remains of the plane, which lost contact with air traffic control around 6.30 am (2330 GMT), en route to Pangkal Pinang city, a jumping off point for beach-and-sun seeking tourists on nearby Belitung island.
"The plane crashed into water about 30 to 40 metres deep," Search and Rescue Agency spokesman Yusuf Latif told AFP.
Images filmed at Pangkal Pinang's main airport showed families of passengers crying, talking frantically on their mobiles phone and hugging each other.
Some were heard saying "Ya Allah" or "Oh God".
Indonesia's National Transportation Safety Committee (NTSC) said there were 178 adult passengers, one child, two infants, two pilots and six cabin crew on board flight JT 610.
The transport ministry had initially said there was a total of 188 people on board.
The finance ministry said around 20 of its employees were on the plane.
It was not immediately clear if any foreigners were on the downed plane, which Lion said was a new, airworthy plane that had only gone into service in August.
The pilot and co-pilot had more than 11,000 hours of flying time between them, it added.
"Lion Air is very concerned about this incident and will work with relevant agencies and all parties," said spokesman Danang Mandala Prihantoro.
The Flightradar website tracked the plane and showed it looping south on take-off and then heading north before the flight path ended abruptly over the Java Sea, not far from the coast.
Poor safety record
US-based Boeing said it was "deeply saddened" by news of the crash.
"We express our concern for those on board, and extend heartfelt sympathies to their families and loved ones," it said in a statement.
"Boeing stands ready to provide technical assistance to the accident investigation," it added.
Indonesia relies heavily on air transport to connect its thousands of islands but has a poor aviation safety record and has suffered several fatal crashes in recent years.
A 12-year-old boy was the sole survivor of a plane crash that killed eight people in mountainous eastern Indonesia in August.
In August 2015, a commercial passenger aircraft operated by Indonesian carrier Trigana crashed in Papua due to bad weather, killing all 54 people on board.
In 2014, an AirAsia plane crashed with the loss of 162 lives.
Indonesian investigators' final report showed a chronically faulty component in a rudder control system, poor maintenance and the pilots' inadequate response were major factors in what was supposed to be a routine flight from the Indonesian city of Surabaya to Singapore.
In June, Lion was among three major Indonesian airlines that had their safety ranking upgraded to seven stars by global rating agency AirlineRatings.com.
Lion, a low-cost airline which has engaged in a huge expansion in recent years, has been involved in a number of incidents including a fatal 2004 crash.
Last year one of its Boeing jets collided with a Wings Air plane as it landed at Kualanamu airport on the island of Sumatra, although no one was injured.
In May 2016, two Lion Air planes collided at Jakarta's Soekarno-Hatta airport, while a month earlier an aircraft operated by Batik Air — part of the Lion Group — clipped a TransNusa plane.
In 2013 a Lion Air jet with a rookie pilot at the controls undershot the runway and crashed into the sea in Bali, splitting the plane in two. Several people were injured in the crash, although no one was killed.
However, in 2004, two dozen people were killed when a Lion Air flight from Jakarta skidded off a rain-slicked runway after landing in the Central Java city of Solo.
Earlier this year, Lion Air announced it as buying some 50 Boeing 737 Max 10 jets for $6.24 billion.
Indonesia's air travel industry is booming, with the number of domestic passengers growing significantly over the past decade, but it has acquired a reputation for poor regulation.
Last year the Indonesian air traffic controllers association revealed that the rate of take-off and landings in Jakarta allowed by state-run air navigation company AirNav was more than the airport could handle, increasing the chance of accidents.
The country's carriers have in the past faced years-long bans from entering European Union and US airspace over their safety records.