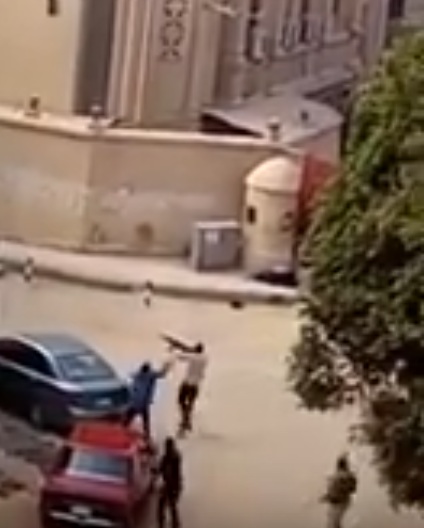 The interior ministry revealed the identity of one of the perpetrators of Friday's terrorist attack on a Coptic church in Helwan church, which killed nine and injured eight.
He was identified as 33-year old Ibrahim Ismail Mostafa, a worker at an aluminum company who was previously involved in militant attacks against security forces, as well as crimes against civilians.
He resided at Mansheyet al-Sadd street in Helwan but has been absent from his residence after authorities attempted to search for him. He previously hid in plantations in Upper Egypt, as he is believed to be one of the perpetrators of an attack on a police vehicle in 2016.
Mostafa was injured and arrested during the attack. The automatic rifle in his possession was seized by the police, as well as an improvised explosive device (IED) which he intended to blow up the chutch with.
He also carried out atracks on his own, including on a road-toll on December 28 in Beni Suef that resulted in the killing of three workers. He also attacked a coffee shop in al-Amereya village, Ayyat, on December 23, killing three and injuring five others. Furthermore, he attacked a separate road-toll in Ayyat, Giza, on July 5, killing three workers.
He killed a citizen and seized his car in Helwan on August 8, 2016, according to the interior ministry.
The weapon seized from the suspect was found to be identical with the weapon used in all the above mentioned incidents, revealed the ministry.
The Supreme Court Security Prosecution took over the investigation.
Edited translation from Al-Masry Al-Youm