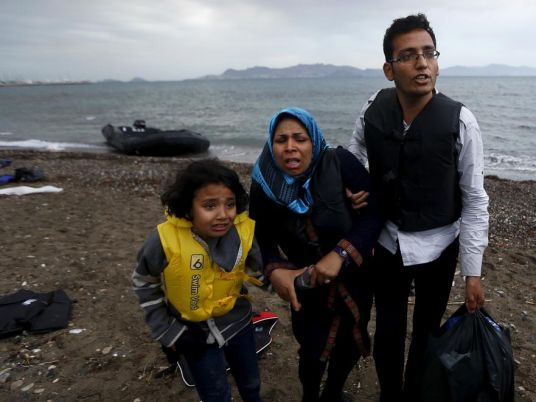 British, Swedish, Spanish and Italian ships are currently en route to help about 10 migrant boats that called for assistance on Sunday, the Italian coastguard said, following the rescue of thousands of others in the Mediterranean this weekend.
The British warship HMS Bulwark launched a mission to rescue at least 500 migrants, the Ministry of Defense said in a statement. The MoD said a helicopter had identified four migrant vessels in distress.
"HMS Bulwark has now commenced rescue operations to recover those in the vessels," the statement said.
The Italian coastguard, which coordinates rescue efforts from Rome, said a total of 10 distress calls had been received. Apart from the international group of navy ships in the area, a Singapore-based merchant ship had also been called in to help, a coastguard spokesman said.
Melissa Fleming, chief spokeswoman for the UN refugee agency, said on Twitter that up to 1,500 people were thought to be aboard the 10 boats. The coastguard would not speculate on the number.
On Saturday, 3,500 migrants were rescued from nine wooden boats and six rubber ones about 45 miles from the
Libya
n coast.
The privately funded Migrant Offshore Aid Station (MOAS) said two German ships, an Irish ship and several Italian ones were involved in Saturday's operations. All the people rescued are being taken to Italian ports.
The European Union has bolstered its presence in the Mediterranean between Sicily and Libya to help rescue people in boats which are taking advantage of the calm summer seas to attempt the crossing.
But the EU is still debating how to handle the refugees and migrants once they are ashore.
EU interior ministers are due to discuss a European Commission plan in Luxembourg on June 16 to disperse 40,000 asylum seekers from Italy and
Greece
to other member states.
The Commission's plan also foresees bolstering the enforcement of an EU treaty that says an asylum seeker must seek refuge in the nation where he or she enters the bloc.
The turmoil in Libya, which has become one of the main transit routes to Europe, is giving free hand to people smugglers.
During the first five months of the year, there were 46,500 sea arrivals into
Italy
, a 12 percent increase on the same period of last year, the United Nations High Commissioner for Refugees said. Italy's government projects 200,000 will come this year, up from 170,000 in 2014.