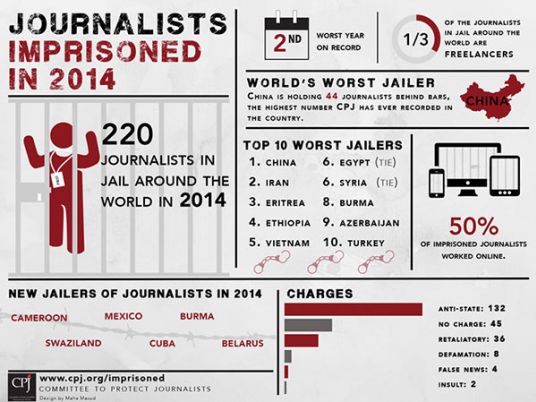 The Committee to Protect Journalists (CPJ) said it would like to discuss with Egypt's presidency "the use of pre-trial detention, anti-terrorism laws, and the protest law against journalists," on Monday.
The international press freedom advocate said it would also like to discuss the "increasing efforts to censor and surveil the Internet," in a letter it posted on its website addressed to Egyptian President Abdel Fattah al-Sisi.
The group sent a mission to Egypt last month. CPJ staff members discussed concerns on the media climate with top officials including the prosecutor general, the transitional justice minister and several assistant ministers for human rights.
"We consistently heard that Egypt's new constitution protects freedom of the press and that no journalists are in jail for what they published," the letter read.
The group added, however, that its own research shows that at least nine journalists sit behind bars in Egypt "in relation to their work."
"The journalists have been charged with crimes such as incitement to violence and participation in illegal protests," CPJ said.
The Egyptian constitution states that the freedom of the press is guaranteed. It also states in Article 71 that no freedom-restricting penalty may be imposed for "crimes of publishing." However, it does leave it up to the law to decide on the penalty undertaken for incitement and discrimination.
CPJ said it has also independently verified the killing of at least 10 journalists since 2011. The group says it would like to discuss the investigations into these killings, asking Sisi to "ensure the perpetrators are held accountable through fair, not politicized, trials."
The press freedom organization described its talks with state officials as a "welcome opportunity to start a candid dialogue" and said it intends to to follow up by formally requesting a meeting between the presidency and CPJ senior staff.
No comment on the CPJ letter was immediately available from the Egyptian government.
However the foreign ministry previously denounced what it described as the "false allegations of restricting freedom of foreign media in Egypt". The ministry pointed out then that there are at least 1,200 certified correspondents who practice their jobs without being subject to any restrictions or prosecution.