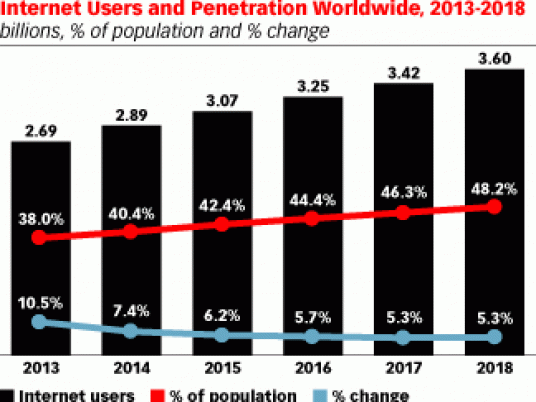 The number of internet users worldwide will surpass 3 billion in 2015, according to new figures from eMarketer, increasing 6.2% next year to reach 42.4% of the entire world's population , according eMarketer report.
This year, the internet will reach more than two in five people in the world for the first time as online audience hits 2.89 billion users globally, the American company said .
By 2018, eMarketer estimates, nearly half the world's population, or 3.6 billion people, will access the internet at least once each month.
Inexpensive mobile phones and mobile broadband connections are driving internet access and usage in countries where fixed internet has been out of reach for consumers, whether that's due to lack of infrastructure or affordability," said Monica Peart, senior forecasting analyst at eMarketer.
"While highly developed markets are nearly saturated in terms of internet users, there's significant room for growth in emerging ones; for example, India and Indonesia will both see double-digit growth in each year between now and 2018."