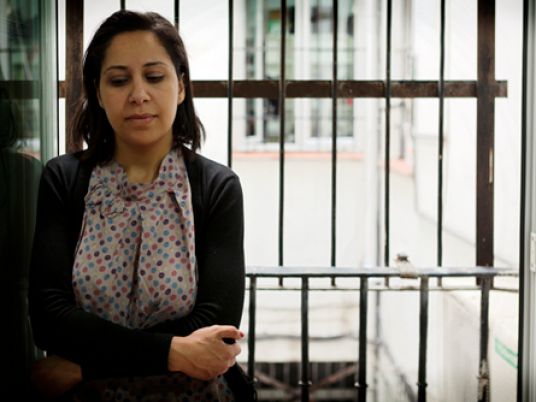 Women's rights activist Mozn Hassan was recently presented with the Right Livelihood Award, often referred to as "alternative Nobel Prize", along with Nazra for Feminist Studies — the NGO she heads — in recognition of their work in support of women and gender equality in Egypt.
Responding to the honor, Hassan said the award comes at a difficult time for civil society in Egypt, but that nonetheless the award acts as a support for the Egyptian feminist movement.
Founded in 1980, the Right Livelihood Award is often referred to in the media as an "alternative Nobel Prize" that — in the words of the foundation behind it — seeks to "honour and support those offering practical and exemplary answers to the most urgent challenges facing us today."
In a statement, the Right Livelihood Award Foundation said that Hassan and Nazra had been given the award "because of their continued work towards equality and women's rights" — work that seeks to deal with "the continued abuse, assaults and discrimination women are subjected to."
After the recent win for Hassan and Nazra, German magazine Deutsche Welle conducted an interview with Hassan, during which she expressed how important the award is to her, especially at a time when civil society in Egypt is under attack.
Deutsche Welle: What does this award represent to you?
Mozn Hassan: It represents an appreciation of Nazra and the feminist movement in Egypt, especially at a difficult time for Egyptian civil society.
DW: How will this award affect the work you do at Nazra in the future?
MH: The main idea is that the award could contribute to change how things currently are on the one hand, and that it is an appreciation of the work we do on the other. I don't know if the former will come true, but the latter of course is a support to us at a time that has proven psychologically taxing.
DW: Why do you say that it is a difficult time psychologically?
MH: Because civil society has been under attack in Egypt for a while, and Nazra is part of a group of organizations being investigated currently in case 173 from 2011, regarding the allocation of funds in civil society organizations. There is a publication ban on the case currently and I am banned from leaving the country. On top of all of that, we live in a country that generally doesn't want to talk about women's rights.
DW: You're still under a travel ban. Who are you going to elect to receive the award for you?
MH: I don't know yet.
DW: What are some of the achievements that — in your opinion — Nazra and the feminist movement as a whole were able to attain in the recent past?
MH: We managed to keep the feminist movement alive, and there is now more female political representation in Egypt. We were able to achieve this through the Academy for Political Participation for Women and we prepared several female candidates for parliamentary, local and syndicate positions. We managed to increase discussions regarding women's rights in Egypt. There were amendments made to laws regarding sexual assault on women. This is all owed to the work of the feminist movement in Egypt. The road is long for sure. For example, Egyptian law still needs to clearly define what sexual assault is exactly.
DW: Is it possible for the prize to lead to more awareness regarding women's rights among lawmakers and enforcers, so they don't make themselves into an obstacle when it comes to enforcing the law?
MH: We will continue our work, and I don't consider awards as a means of remedying the problems we face. But, nonetheless, this is a great honor for Nazra and for the feminist movement as a whole. Our mission still remains to continue our work and, of course, the award will help move our work along, simply by association.
DW: Do you see an improvement regarding women's rights in Egypt?
MH: The government has laid down national strategies to fight assaults on women, and legal amendments have been made to criminalize FGM. Yes, there are problems, but there is progress for sure.