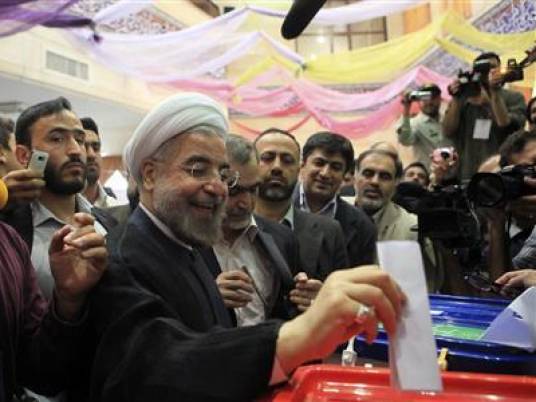 President-elect Hassan Rohani held out the prospect on Monday of better relations between Iran and the world, including the United States, and progress on resolving the nuclear dispute.
But the moderate cleric who scored a surprise election victory on Friday insisted Washington and the West must recognize what he said was Tehran's right to enrich uranium, not interfere in Iran's internal affairs and end their hostility.
Rohani said his new government, to be formed after his inauguration in August, would "revive ethics and constructive interaction with the world through moderation."
"I hope that all countries use this opportunity," he told his first news conference since his election win.
Asked if he would be prepared to hold direct talks with the United States, Rohani said: "The issue of relations between Iran and America is a complicated and difficult issue."
"It is an old wound that needs to be … healed," he said.
Rohani set 3 conditions for direct talks.
"First of all the Americans have to say … that they will never interfere in Iran's internal affairs. Second, they have to recognize all of the Iranian nation's due rights including nuclear rights, and third they have to put aside oppressive … policies towards Iran," he said.
The White House said on Sunday the election of Rohani was a "potentially hopeful sign" if he lives up to what it said were his promises to "come clean" over the nuclear programme.
Western countries believe Iran's nuclear program is cover for plans to develop the means to one day build an atomic bomb. Washington and the European Union severely tightened financial and trade sanction on Iran last year, forcing sharp cuts to its oil exports and causing serious harm to its economy.
Iran says its nuclear program is for energy and medical purposes only, and its sovereign right under international treaties which guarantee countries access to peaceful atomic technology if they forego weapons.
Rohani was Iran's nuclear negotiator from 2003 to 2005 during which time he negotiated a suspension of Tehran's uranium enrichment. He said Iran would not halt those activities again.
"That period has ended," he said, but added that Tehran would be more transparent about its activities in the future.
"Our nuclear programs are completely transparent. But we are ready to show greater transparency and make clear for the whole world that the steps of the Islamic Republic of Iran are completely within international frameworks," he said.
A close associate of hardline Supreme Leader Ayatollah Ali Khamenei for more than 40 years, Rohani also received the backing of former presidents Mohammad Khatami, a reformist, and pragmatic political heavyweight Akbar Hashemi Rafsanjani.
Though a renowned bridge-builder, Rohani will have a hard task balancing the public demand for more openness and the likely resistance of the conservative establishment.
Underlining that challenge, the news conference ended when one man shouted a slogan in favor of reformist Mirhossein Mousavi, held under house arrest since 2011.
Mousavi ran for president in 2009 and led the "Green Movement" of mass demonstrations contesting his defeat, which became the biggest challenge to Iran's ruling system since its founding in the 1979 revolution.
"Rohani remember, Mirhossein must be (present)," the man shouted live on state television. Rohani left the dais and state television cut to scenes of people voting and music.
Rohani's predecessor, Mahmoud Ahmadinejad, had clashed with Iran's conservative establishment despite winning Khamenei's backing to suppress the Green Movement protests four years ago.
In a sign of the country's deep divisions, Ahmadinejad – who remains president until Rohani's inauguration in August – was summoned on Monday to appear before a court on unspecified criminal charges. Parliament Speaker Ali Larijani, whose powerful family Ahmadinejad accused of corruption, has made complaints against him.
Israeli Prime Minister Benjamin Netanyahu said on Monday the Iranian election was evidence of popular discontent with the Tehran government, but said Rohani did not have the power to change nuclear policy, which is in the hands of Khamenei.
Iran's desire for better relations, Rohani said, only applied to countries with which Tehran recognizes, a category that would exclude Israel.
As well as the nuclear dispute, relations with the West and Iran's internal divisions, Rohani also has to cope with an economy damaged by international sanctions and mismanagement and a civil war in Syria where it backs President Bashar al-Assad.
Better relations with other countries and the recognition of Iran's nuclear rights through negotiation would lead to the lifting of sanctions and improvement of the economy, he said.
The civil war in Syria, the bespectacled grey-bearded cleric said, would be resolved "with the vote of the people of Syria … that which worries our people is the civil war and the interference of foreigners, which must end."