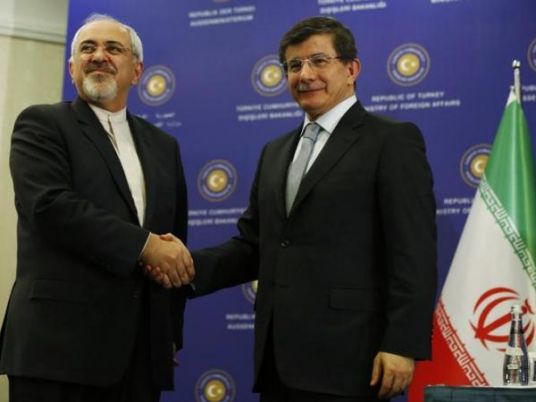 Iran wants to discuss greater economic cooperation with neighboring Turkey and regional crisis in talks in Istanbul on Saturday, Tehran's Foreign Minister Mohammad Javad Zarif was quoted as saying by Iranian state media.
Zarif arrived in Istanbul, where he is due to meet with President Tayyip Erdogan, Prime Minister Ahmet Davutoglu and Foreign Minister Mevlut Cavusoglu.
Turkey's foreign ministry has said the aim of talks will be "current regional and international developments" as well as bilateral relations between the two countries.
Zarif suggested that business would be high on the agenda.
"We are seeking the best possible level of economic cooperation with Turkey after the nuclear deal," he told reporters in Istanbul.
After the lifting of international sanctions this year following a deal with Western powers to curb its nuclear program, Iran has become the biggest economy to rejoin the global trading system since the Soviet Union broke up more than two decades ago.
Gains by reformist candidates in Iranian elections last month have also opened the way for changes to economic policy that will boost foreign investment and trade with the West, businessmen and analysts have said.
While Iran and Turkey back opposing sides in the wars in Syria and Yemen, their economic interdependence has kept relations broadly on track.
"As two neighbors and Muslim countries, Iran and Turkey enjoy many commonalities… The leaders of Iran and Turkey seriously want to further develop economic ties," Zarif told Iran's state news agency IRNA in Istanbul.
"We face common regional threats and of course have different views regarding some issues that should be resolved through dialogue and negotiations."
Iran has been a strong strategic ally of Syrian President Bashar al-Assad since the start of the uprising against him, while Turkey has been one of his fiercest critics, supporting his opponents and giving refuge to rebel fighters.
Meeting in Tehran earlier this month, Iranian President Hassan Rouhani and Davutoglu agreed they must cooperate to end sectarian strife, including support for a fragile Syrian ceasefire.