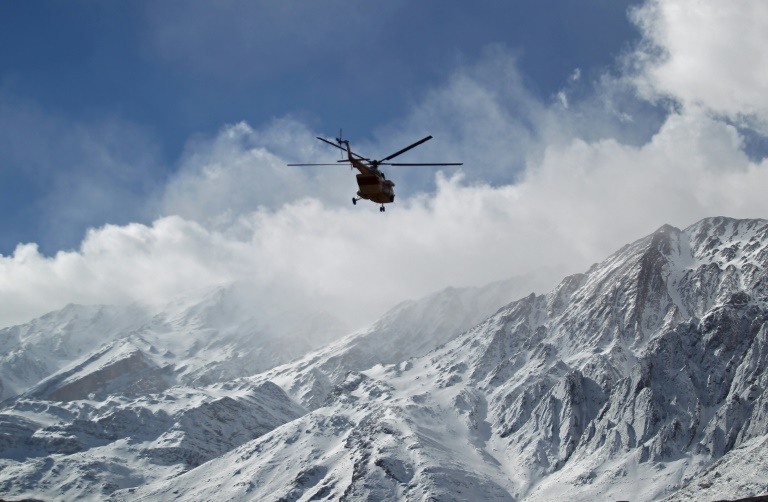 Iranian search teams found the wreckage on Tuesday of a plane that went missing in the Zagros mountains two days earlier with 66 people on board, a spokesman said.
Aseman Airlines flight EP3704 disappeared in the Zagros range on Sunday morning, around 45 minutes after taking off from Tehran.
After two days of heavy snow and fog, the weather finally cleared on Tuesday morning, giving helicopter teams much better visibility.
"The Revolutionary Guards' helicopters this morning found the wreckage of the plane on Dena mountain," spokesman Ramezan Sharif told state broadcaster IRIB.
An IRIB reporter who spoke to one of the pilots said he had seen "scattered bodies around the plane" and that it was located in Noghol village, around 4,000 meters (13,000 feet) up Dena mountain.
"Since yesterday the Guards' drones started carefully identifying the geographical area where the plane had probably crashed and this morning two helicopters of the air forces were dispatched to the location," Sharif said.
Snowmobiles were deployed earlier on the 4,409-metre (14,465-foot) peak, where more than 100 mountaineers have also been aiding the search.
"Last night, a number of people stayed on the mountain and through coordination with local guides managed to search all crevices," Mansour Shishefuroosh, head of a regional crisis centre, told the ISNA news agency.
Some 500 images taken by drones were being analyzed overnight, he added.
Poor visibility meant some 60 helicopter sorties on Monday could find no trace of the plane.
A team of crash investigators from French air safety agency BEA were also due to arrive in Iran on Monday, but their arrival had not yet been confirmed.
– Aviation safety –
The incident has reawakened concerns over aviation safety in Iran, which has been exacerbated by international sanctions over the years.
Aseman Airlines was blacklisted by the European Commission in December 2016.
It was one of only three airlines barred over safety concerns — the other 190 being blacklisted due to broader concerns over oversight in their respective countries.
Iran has complained that sanctions imposed by the United States have jeopardized the safety of its airlines and made it difficult to maintain and modernize ageing fleets.
Aseman was forced to ground many of its planes at the height of the sanctions due to difficulties in obtaining spares.
In a working paper presented to the United Nations' International Civil Aviation Organization (ICAO) in 2013, Iran said US sanctions were blocking "the acquisition of parts, services and support essential to aviation safety".
Iran has suffered multiple aviation disasters, most recently in 2014 when 39 people were killed as a Sepahan Airlines plane crashed just after take-off from Tehran, narrowly avoiding many more deaths when it plummeted near a busy market.
But figures from the Flight Safety Foundation, a US-based NGO, suggest Iran is nonetheless above-average in implementing ICAO safety standards.
Lifting sanctions on aviation purchases was a key clause in the nuclear deal that Iran signed with world powers in 2015.
Following the deal, Aseman Airlines finalised an agreement to buy 30 Boeing 737 MAX jets for $3 billion (2.4 billion euros) last June, with an option to buy 30 more.
The sale could still be scuppered if US President Donald Trump chooses to reimpose sanctions in the coming months, as he has threatened to do.