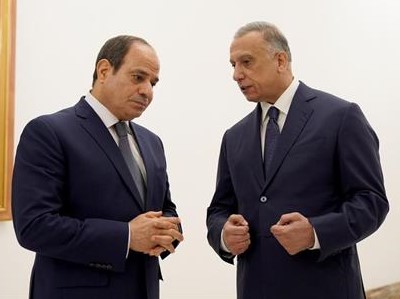 BAGHDAD, June 6 (MENA) – Iraqi Prime Minister Mostafa al-Kadhimi conferred on Monday with Egyptian and Jordanian foreign ministers Sameh Shoukry and Ayman al-Safadi respectively on means of enhancing trilateral cooperation in the various fields especially the economic and trade ties.
The meeting comes as part the official visit of the Egyptian foreign minister Sameh Shoukry and the Jordanian Ayman al-Safadi to Iraq for talks on building on the decisions and recommendations taken during the summit meeting between the leaders of the three countries.
Egyptian Foreign Ministry Spokesperson Ambassador Ahmed Hafez said Kadhimi's meeting with Shoukry and Safadi covered the latest regional and international developments as well as ways to consolidate efforts in face of current challenges facing the Arab region.
The Egyptian and Jordanian top diplomats, on their part, asserted their keenness on maintaining the security and stability of Iraq in view of the close ties binding the three countries at the popular and official levels.
Meanwhile, Iraqi President Burham Saleh received the Egyptian and Jordanian foreign ministers.
The visit of Shoukry and Safadi to Iraq is part of the periodical consultations and coordination among the three countries as well as efforts to activate the trilateral mechanism of cooperation among them.(MENA)