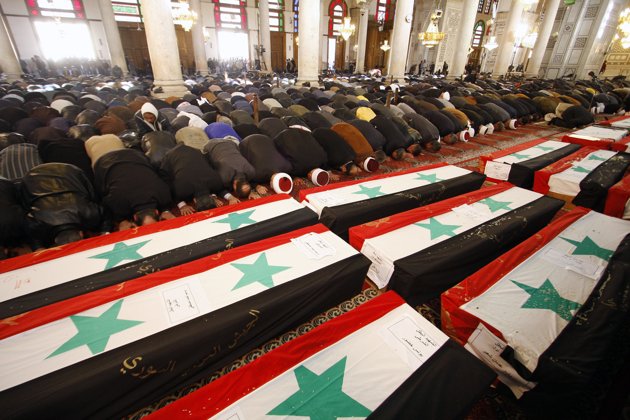 Islamic State fighters captured territory from Syrian rebels near the Turkish border on Friday and inched closer to a town on a supply route for foreign-backed insurgents fighting the jihadists, a monitoring group said.
The ultra-hardline group has been fighting against rebels in the area for several months. The rebels, who are supplied via Turkey, last month staged a major push against Islamic State, but the group counter attacked and beat them back.
The United States has identified the area north of Syria's former commercial hub Aleppo as a priority in the fight against the Islamic State (IS) movement.
The British-based Syrian Observatory for Human Rights said Friday's advance was the biggest by IS in Aleppo province for two years. It brought the jihadist to within 5 km of Azaz, a town near the border with Turkey through which insurgents have been supplied.
Islamic State said in an online statement it had captured several villages near Azaz.
The advance also cut rebel supply lines from Azaz to the town of Marea farther southeast, isolating the latter from other rebel-held areas, the Observatory said.
In April, Islamic State militants seized another strategic town near the Turkish border from rebel factions fighting under the banner of the Free Syrian Army.
The IS advances on Friday encroach on a corridor of rebel-held territory that leads from the Turkish border toward Aleppo city, which is divided between insurgent and government control.
Aleppo's northern countryside is the theater of several separate battles between multiple warring sides in the five-year Syrian conflict, which has drawn in military involvement of regional and world powers that back different groups.
Rebels supplied through Turkey have been fighting Islamic State and separately battling Kurdish forces in other areas.
Ankara is concerned by Kurdish advances along its border, where the Kurdish YPG militia already controls an uninterrupted 400 km (250 mile) stretch.
The United States supports the YPG and allied fighters in its battle against Islamic State farther east, including in Hasaka and Raqqa provinces.
Islamic State has declared a cross-border Islamic caliphate in Syria and neighboring Iraq.