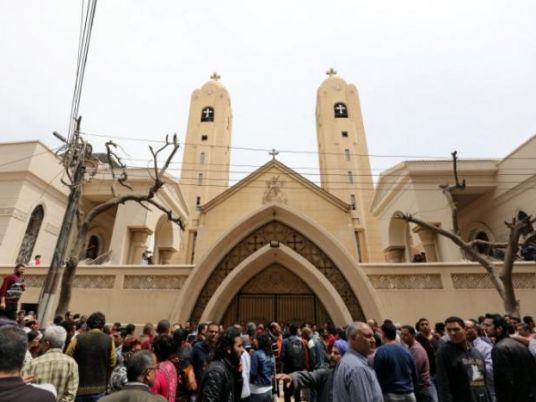 In bringing to fruition recent threats made by the Islamic State group in Egypt against the Coptic Christian minority, nearly 45 people were killed and more than 100 were injured on Sunday morning in two violent bombings at prominent churches in the cities of Tanta and Alexandria, in addition to unconfirmed reports of further terrorist attacks in other locations.
The first explosion took place inside a church located in the Nile Delta city of Tanta and resulted in the death of 29 worshippers who were attending mass on Palm Sunday, including a high-ranking judge, and the injury of 78 others, according to a statement released by Health Ministry.
Preliminary testimonies from several witnesses indicated that the first explosion was executed by a suicide bomber who entered the church and pretended to be a worshipper; however, no official statement has been released by the government about the perpetrator as of yet.
Far away from Tanta, Egypt's second largest city of Alexandria was rocked by a similar blast about two hours later when a suicide bomber tried to breach Saint Mark's Coptic Orthodox Cathedral in which Pope Tawdros II was delivering a sermon on the occasion of Palm Sunday.
The police officers assigned to secure Saint Mark's Coptic Orthodox Cathedral in Alexandria managed to prevent the suicide bomber from entering the church, but rather than continuing his attempt to enter the terrorist detonated his explosive belt in front of the church.
According to a statement from the Interior Ministry, the explosion killed a police officer, a non-commissioned police officer and a female major general who were restraining the attacker.
The explosion in front of the church killed 16 civilians and injured 41 others, according to the Health Ministry.
While victims were being transferred to ambulances, the Islamic State group claimed responsibility for both attacks on its affiliated media outlet Ammaq.
These attacks come against the backdrop of video footage from February titled "Fighting All Infidels" which showed a number of IS militants, who are part of the affiliated Sinai Province group, pledge to target Copts in different parts of Egypt.
The footage included statements from a Sinai Province militant who the terrorist group allege is the suicide bomber from a December 2016 attack on worshippers in the Abbasyia Cathedral, which left 29 dead.
Directly following the release of this video, violence committed by Sinai Province against the Coptic minority has been on the rise, especially in the North Sinai city of al-Arish.
Copts in Arish have been abducted, tortured and killed by Sinai Province militants, who often stormed their homes and either killed them in front of their families or left their bodies in public squares.
The unprecedented wave of brutality committed by Sinai Province pushed Coptic residents to flee the city, fearing they will be killed or slaughtered.
According to several testimonies from Copts who arrived in Ismailia governorate, the IS-affiliated group pledged to kill them if they continued to reside in Arish.
These threats have pushed almost 90 percent of Coptic residents from their hometowns in North Sinai. They have received food, shelter and refuge from the charities and churches in Ismailia.