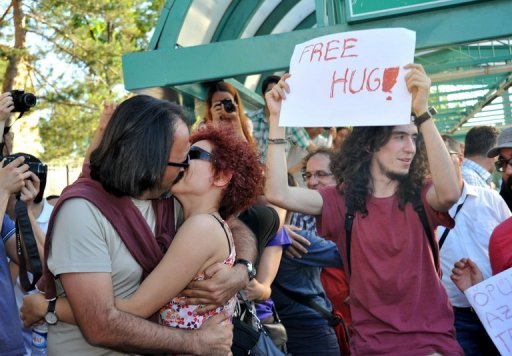 Islamists attacked a group of kissing couples who locked lips in a Turkish metro station to protest a morality campaign by the authorities in Ankara, the local press reported on Sunday.
One person was stabbed when about 20 Islamists chanting "Allah Akhbar" (God is Greatest) and some carrying knives attacked the demonstrators on Saturday, the Milliyet and Hurriyet newspapers reported.
About 200 people staged the kissing protest after officials in the Ankara municipality, which is run by Turkey's ruling Islamist-rooted Justice and Development Party (AKP), admonished a young couple for kissing in the street.
Turkey is predominantly Muslim but staunchly secular, although the government of Prime Minister Recep Tayyip Erdogan has introduced several measures opponents see as a sign of the creeping Islamisation of the country, including restrictions on alcohol.