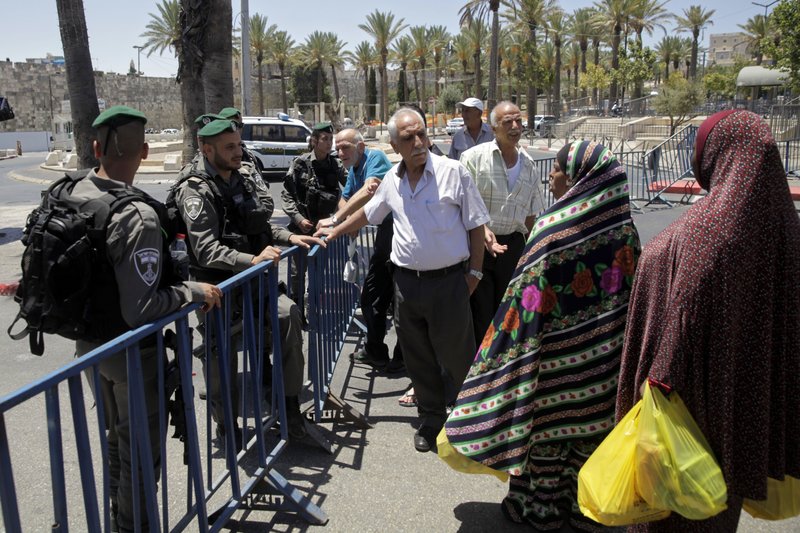 Israel will gradually reopen a Jerusalem holy site Sunday after taking the rare step of shutting it down following a deadly assault there that sparked concerns of a fresh round of violence.
For the first time in decades, Israel closed the site, known to Muslims as the Noble Sanctuary and to Jews as the Temple Mount, on Friday after an attack by three Arab citizens of Israel who opened fire from the sacred site with automatic weapons and killed two police officers before being shot dead inside the compound.
Prime Minister Benjamin Netanyahu said that following consultations with security officials the site would be reopened Sunday afternoon with increased security measures that included metal detectors at the entrance gates and additional security cameras to make sure that no weapons are smuggled inside again.
Israeli forces conducted a security sweep early Sunday and began installing the detectors. Given the large number of worshippers expected to enter the site, the new measures could slow movement and spark tensions.
The attack triggered a rare phone conversation between Netanyahu and Palestinian President Mahmoud Abbas, who condemned the attack and called for the site to be reopened. Jordan, a custodian of the sacred compound, also called for its immediate reopening. Netanyahu acted quickly to allay Muslim fears, saying that the status quo at the Muslim-administered site "will be preserved." But Gaza's Hamas rulers called the act a "religious war" and urged Palestinians to carry out more attacks.
Early Sunday, Israeli police said security forces shot dead a Palestinian assailant behind a pair of recent shooting attacks. Spokesman Micky Rosenfeld said police tracked down the 34-year-old suspect in a joint operation with the military. The suspect opened fire with an automatic weapon, prompting the troops to return fire, killing him.
In the past two years, Palestinians have killed 45 Israelis, two visiting Americans and a British tourist in stabbings, shootings and car-ramming attacks. During that period, Israeli forces have killed more than 255 Palestinians, most of them said by Israel to be attackers while others were killed in clashes with Israeli forces.
Israel blames the violence on incitement by Palestinian political and religious leaders compounded on social media sites that glorify violence and encourage attacks. Palestinians say the attacks stem from anger over decades of Israeli occupation of territories they claim for their future state.
The Jerusalem shrine has been the scene of repeated confrontations, including during the current wave of violence.
Israel has previously accused Palestinians of stockpiling rocks and other projectiles in one of the mosques in the holy compound. Israeli security forces have fired tear gas and stun grenades at the compound to disperse Palestinian stone throwers, who have at times targeted Jews praying at the adjacent Western Wall.
In September 2000, then-Israeli opposition leader Ariel Sharon made a provocative visit to the site, sparking Palestinian protests that quickly escalated into armed clashes between Palestinian gunmen and Israeli soldiers.
The incident was one of the triggers of an armed Palestinian uprising and an Israeli military crackdown. The violence claimed several thousand victims, most of them Palestinians, and only began to ebb in 2005.