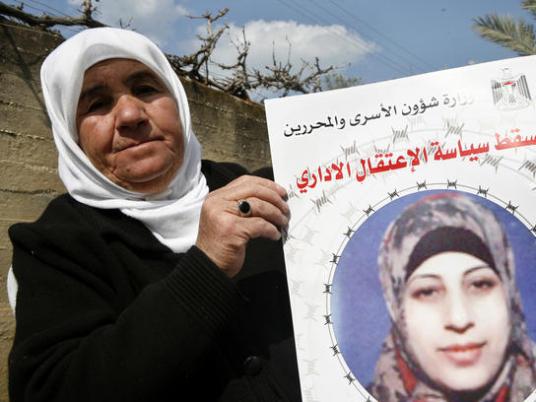 Israel on Sunday deported a female Palestinian prisoner who spent 43 days on hunger strike to the Gaza Strip, under a deal that has been criticized by Palestinians.
Eyewitnesses and Palestinian officials told AFP that Hanaa Shalabi entered Gaza via the Erez border crossing, and was being transferred by ambulance to a local hospital for tests.
Shalabi, who met relatives on the Israeli side of Erez before entering Gaza, said she was "very happy to be in my country with my people," but that the encounter with her family — from Jenin in the West Bank — was very difficult.
"I was shocked meeting my family, and they were shocked to see me," she told the media on the Gaza side of Erez. "The meeting with my family was very difficult."
Shalabi was received in Gaza by approximately 100 people bearing her picture and calling out her name. Officials from the Islamic Jihad and Hamas movements were also there.
Israel's prison services spokesperson Sivan Weizman confirmed that Shalabi had been taken from the Ramla Prison south of Tel Aviv to the Erez crossing.
Weizman said Shalabi, who ended her hunger strike on 29 March, was being transferred in a regular vehicle, and said she had no details on her condition.
Shalabi began her hunger strike after she was arrested on 16 February and held without charge.
On 29 March, Palestinian authorities announced that Shalabi had agreed to a deal with Israel under which she would be released and deported to Gaza for three years in exchange for ending her hunger strike.
The deal has been criticized by rights groups and the Palestinian prisoners affairs ministry, which said she had been forced to accept the arrangement.
But in a statement released on Sunday through her lawyer Jawad Bulus, Shalabi insisted she had agreed to the deal voluntarily.
"To my dear family and my people and all the free people in the world, I thank you for your efforts and I appreciate everything you did for me and for the prisoners," she said.
"I hope that you will understand my position and my decision, which was taken freely.
"I chose to be transported to Gaza, which is half the homeland, and to be with my family and people there for three years," she said.
"After that I will go back to my home in Jenin and to my family. I hope that my decision will be respected and that we will continue to support together those who are fighting their battles for the homeland and for the prisoners."
Palestinian prisoners group Addameer and Israel's Physicians for Human Rights-Israel, both of which worked on Shalabi's case, expressed concern about the deal in a joint statement on Sunday.
They noted that their officials, as well as Shalabi's relatives, were denied access to her during the final days of her hunger strike.
And they warned that "aspects" of the deal "are fundamentally at odds with international law.
"With no guarantees that she or her family will be permitted to travel, her expulsion could essentially become an extension of her previous isolation from her home and family while in prison."
Shalabi's action was inspired by a hunger strike by another Palestinian prisoner, Khader Adnan, who was also protesting against his administrative detention.
Israeli administrative detention orders allow a court to order an individual to be detained for periods of up to six months at a time.
Adnan refused food for 66 days, agreeing only to end his hunger strike after a deal was struck ensuring he would be released at the end of his four-month term.
In the wake of his hunger strike, dozens more Palestinian prisoners in Israeli jails have launched similar protests, Palestinian and Israeli officials say.