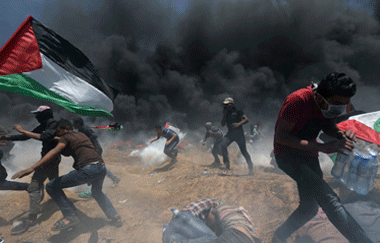 Israeli troops killed dozens of Palestinians who were taking part in mass protests on the Gaza border on Monday as the United States opened its embassy to Israel in Jerusalem.
The US move fulfilled a pledge by US President Donald Trump, who has recognized the holy city as the Israeli capital, but it has fired Palestinian anger and drawn criticism from many foreign governments as a set back to peace efforts.
"Today we open the United States Embassy in Jerusalem, Israel," U.S. Ambassador to Israel David Friedman said at the inaugural ceremony, attended by a U.S. delegation from Washington and Israeli leaders.
Trump, in a tweet, called it "A great day for Israel".
On the Gaza border, at least 41 Palestinians were killed by Israeli gunfire in the latest in a round of protests dubbed the "Great March of Return", health officials said.
It was the highest Palestinian death toll in a single day since a series of protests began at the border with Israel on March 30, and since the 2014 Gaza war.
The health officials said 900 Palestinians were wounded, about 450 of them by live bullets.
Tens of thousands had streamed to the coastal enclave's land border, some approaching the Israeli fence – a line Israeli leaders said Palestinians would not be allowed to breach. Clouds of black smoke from tyres set alight by demonstrators rose in the air.
Demonstrators, some armed with slingshots, hurled stones at the Israeli security forces, who fired volleys of tear gas and intense rounds of gunfire.
"Today is the big day when we will cross the fence and tell Israel and the world we will not accept being occupied forever," said Gaza science teacher Ali, who declined to give his last name.
Trump's recognition of contested Jerusalem as Israel's capital in December outraged Palestinians, who said the United States could no longer serve as an honest broker in any peace process with Israel.
Palestinians seek East Jerusalem as the capital of a state they want to establish in the occupied West Bank and the Gaza Strip.
Israel regards all of the city, including the eastern sector it captured in the 1967 Middle East war and annexed, as its "eternal and indivisible capital" in a move that has not won international recognition.
Prime Minister Benjamin Netanyahu, in lockstep with Trump over fulfilling a long-standing U.S. promise to move the embassy to the holy city and over Washington's withdrawal from the Iran nuclear deal last week, hailed the move.
"What a moving day for the people of Israel and the State of Israel," Netanyahu said.