Jerusalem (CNN) – Israeli troops used live fire to disperse protesters in the West Bank on Friday amid rising tensions following a spate of Palestinian attacks on Israeli soldiers and civilians in recent days.
An 18-year-old Palestinian named Mahmoud Rabah Nakhleh died after he was shot in the abdomen during clashes north of Ramallah, according to the Palestinian Ministry of Health.
A 13-year-old Palestinian was shot in the lower leg while using a slingshot in a stand-off with Israeli settlers near the Beit El settlement outside Ramallah, CNN eyewitnesses reported.
The Israeli army confirmed to CNN that it had used what it called riot dispersal means at the site, which included live fire.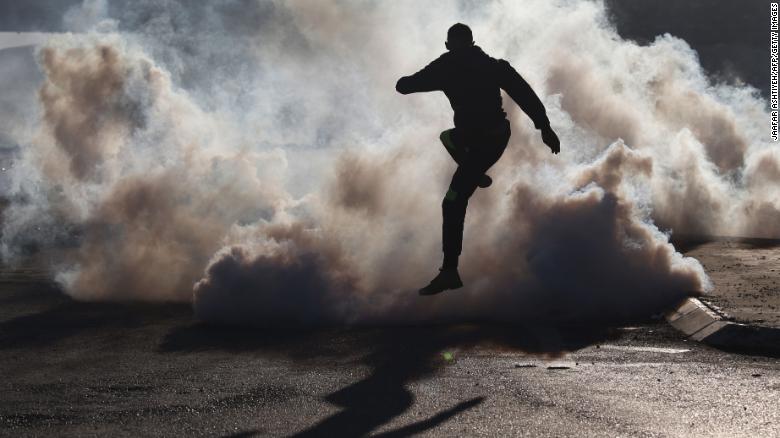 A protester jumps over smoke from burning tires during clashes with Israeli soldiers near the Hawara checkpoint, south of Nablus, on Friday.
Earlier, less than a kilometer away, an Israeli soldier was injured after he was struck by a rock and stabbed, the Israeli army said. His condition was described as moderately to severely wounded. The assailant was also injured in the ensuing struggle.
Officials had been braced for widespread protests after Israel's army carried out raids overnight Friday in Ramallah. But overall levels of violence remained relatively low, and calls by Palestinian political factions to escalate confrontations with Israeli forces appear to have gone unheeded.
Forty people were arrested overnight in Ramallah on suspicion of "involvement in terror activities, popular terror and violent riots targeting civilians and security forces," Israel's army said. The army added that 37 of the detainees belonged to the Hamas militant group, which has threatened further attacks on Israeli soldiers.
Two Israeli soldiers were shot dead Thursday at a bus stop on a main road in the Israeli-controlled part of the West Bank, the Israeli military said. A third soldier and a fourth person were wounded in the incident.
Thursday's shooting took place less than two kilometers away from the site of an attack in Ofra settlement on Sunday which wounded seven, including a pregnant woman whose baby was delivered prematurely but died three days later.