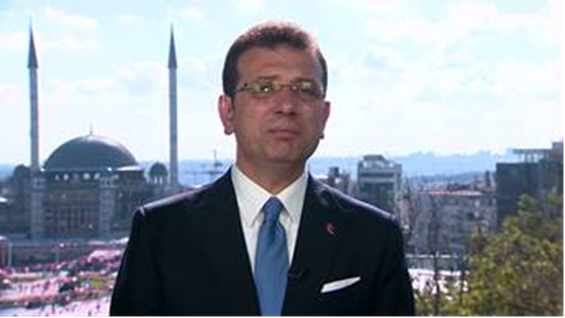 (CNN)–The winner of Istanbul's mayoral election re-run has issued a thinly veiled warning to Turkey's President Recep Tayyip Erdogan to respect democracy, and that whoever "decides not to serve the people and prioritizes their political future" will be exposed.
Speaking exclusively to CNN's Christiane Amanpour, days after his decisive nine-point victory over Erdogan's ruling Justice and Development Party's (AKP) candidate, Ekrem Imamoglu said the race was an "extraordinary test" of Turkey's democratic tradition.
"June 23rd showed us that no one, no individual or power, can stand in the way of the will of the people, no politician has the luxury to ignore that fact," said Imamoglu, who dealt Erdogan's ruling party a humbling defeat on Sunday. "That is not a threat. It is how things should be.
"I hold the view that we have passed that test successfully," he said of his win, which was seen as a damning indictment of AKP's long reign by Istanbul residents, many of whom blame Erdogan for the economic crisis, double-digit unemployment and Turkey's plummeting currency, the lira.
Imamoglu, who emerged from relative obscurity to become the star of the opposition Republican People's Party (CHP), had to run twice after AKP challenged the outcome of the first vote in April claiming fraud.
Sunday's victory saw how "the people of Istanbul demonstrated the legitimacy of the election and the election was protected. No one will be able to interfere with elections to such an extent again," he said.
'Whoever wins Istanbul, wins Turkey'
Erdogan has cast a long shadow over Turkish politics during more than a quarter-century in politics. He has consolidated power in his person to what many say is the detriment of Turkish democracy, but his legitimacy is based on his uncanny ability to win elections.
The President was not a candidate in this election, but the loss is still personal. Istanbul is his birthplace and the city where he launched his political career — often saying "whoever wins Istanbul, wins Turkey."
The city has become a concentrated source of wealth and power for Erdogan's party, oiling the rest of Turkey's political machine. Losing control of it means losing funds and resources that subsidize pro-government media, businesses, contractors and the AKP apparatus at large.
Erdogan's catchphrase is something Imamoglu has no time for. "What I am interested in is serving Istanbul successfully, and ensure that Istanbul wins in return."
When asked whether he would be investigating the alleged cronyism and corruption from AKP officials, Imamoglu said his first business as mayor will be tackling allegations of municipal corruption to the "the scrutiny of auditing companies with international experience."
The 49-year-old did not think the allegations referred to "Erdogan as an individual," but added "they may relate to his party or to the administrators of his party. How the process would progress is a matter for the judiciary, not my personal responsibility, of course."
Erdogan congratulated the new mayor on his win in a Twitter post Sunday, saying "the national will has appeared once again today. I congratulate Ekrem Imamoglu, who has won the election, according to unofficial results."
Imamoglu hopes Erdogan will shrug off the loss of Istanbul. "I do not believe Mr. Erdogan would continue to hold political gain as his priority after this juncture. Extending the hand for peace would be to the benefit of the country."
By Tara John and Mick Krever, CNN