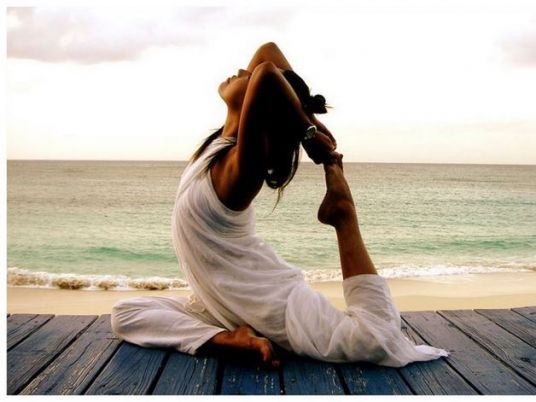 A shorter duration, lowered temperature and increased attention to hydration are the recommendations from a team of exercise scientists who conducted a study on Bikram yoga.
A typical Bikram Om session is carried out in a room heated to 105 degrees F (40 degrees C) with 40 percent humidity.
Typical classes are 90 minutes long and participating yogis can expect to contort into 26 poses and perform two breathing exercises.
Enthusiasts enjoy the challenge of staying focused despite the discomfort and believe the profuse sweating it induces has a detoxifying effect.
Recent research has supported claims to a bevy of health benefits including improved mindfulness and lower perceived stress levels, improved cardiorespiratory endurance, better balance, increased dead-lift strength, more shoulder flexibility and small decreases in body fat percentage.
Yet despite these benefits, the research team wanted to test the safety of the practice and recruited 20 healthy volunteers, all of whom took part regularly in Bikram yoga classes.
The 20 participants were between the ages of 28 and 67; seven were men and 13 were women.
Each participant swallowed a core body temperature sensor and strapped on a heart-rate monitor to wear during class.
Heart-rate data was overall lower than what the research team had predicted and fluctuated depending on the difficulty of a given pose, as it should.
Yet core temperatures rose steadily for all participants.
The average highest core temperature for men was 103.2 degrees F (39.5 degrees C), and for women it was 102.0 degrees F (38.8 degrees C).
One male participant's core temperature reached 104.1 degrees F (40.05 degrees C), which is associated with increased risk for heat-related illness and heat stroke, according to the study.
By the end of the 90-minute session, seven of the 20 subjects had a core temperature greater than 103 degrees F (39.4 degrees C).
The researchers recommend that class time in such a hot setting should not exceed 60 minutes to minimize heat intolerance.
A typical Bikram yoga class offers just one break for water, which the research team says is not enough.
They advise Bikram enthusiasts who believe that minimizing their water consumption during class leads to increased mindfulness that it doesn't work that way.
"Nothing is gained from withholding water in any setting," says Dr. Porcari, head of the University of Wisconsin La Crosse Clinical Exercise Physiology program. "Exercise leaders must actively encourage hydration, particularly when classes take place in extreme environments like those seen in Bikram yoga classes."
The study was funded by the American Council on Exercise (ACE) and is available online in PDF format: https://www.acefitness.org/certifiednews/images/article/pdfs/ACE_BikramYogaStudy.pdf