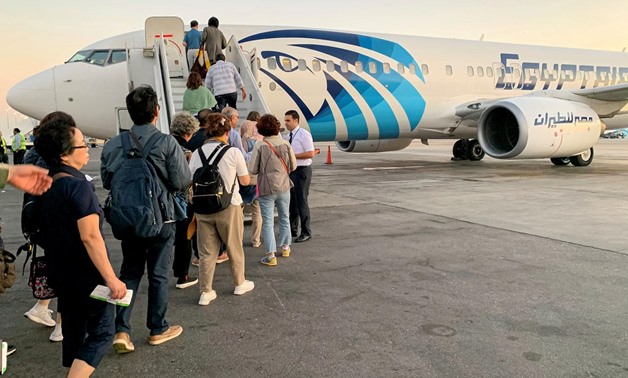 Chairperson of the Egyptian Tourism Federation Ahmed al-Wasef said that Italian flights to and from Egyptian airports will resume on July 15, according to Italian Nova News Agency.
Wasef added that several Egyptian hotels have already received bookings from Italian tourist companies.
He also noted that Egypt has prepared several measures — using World Health Organization (WHO) guidance — that aim to protect tourists and motivate them to visit Egypt.
The government decided as well to provide foreign airlines with discounts on services.
Minister of Civil Aviation Mohamed Manar and Minister of Tourism and Antiquities Khalid Anany discussed last week the measures needed to resume foreign tourism amid the outbreak of coronavirus (COVID-19).
The Ministry of Civil Aviation allocated a 50 percent discount on airport taxes, and a 20 percent discount on ground services at airports in the Red Sea, South Sinai, and Marsa Matrouh governorates.
The airports are ready to receive foreign tourists in accordance with health security measures and WHO requirements.
Anany said that the discounts will help tourist operators attract visitors to the coastal governorates.
He added that the Ministry of Tourism is also offering a 20 percent discount, valid for 15 days, on entry to museums, archaeological sites belonging to the Supreme Council of Antiquities, and on travel visas for travelers arriving on EgyptAir and Air Cairo.
The International Council for Tourism and Travel (ICTT) on Saturday granted Egypt the "Safe Travel Stamp" after approving the Egyptian Ministry of Tourism and Antiquities' health safety regulations to receive foreign tourism.
Egypt announced on June 7 that air traffic in all Egyptian airports will resume staring July 1, in accordance with Egypt's preventive and precautionary measures to coexist with the coronavirus outbreak. Flight reservations have reopened in all airline offices.
Civil aviation traffic in Egypt has been suspended since March 19, excluding air cargo flights, charter flights only for tourist groups already in Egypt who want to return home, international medical flights and domestic flights.
Edited translation from Al-Masry Al-Youm