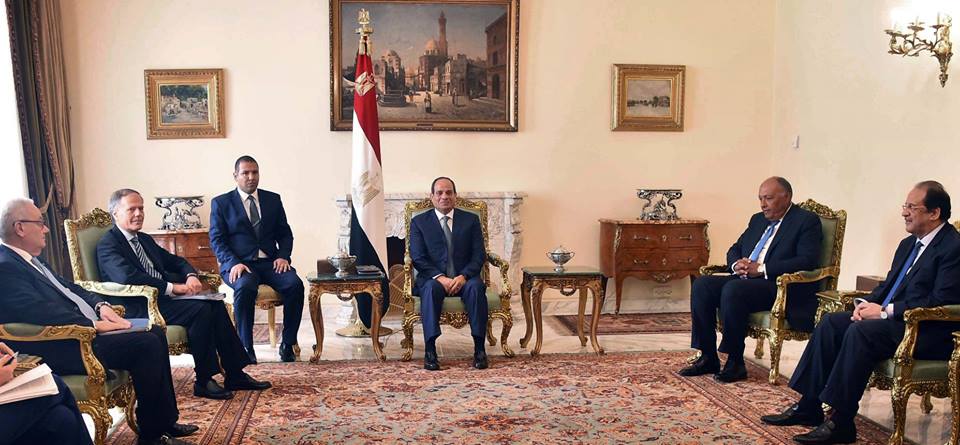 Egyptian President Abdel Fattah al-Sisi on Sunday stressed Egypt's interest in uncovering the truth behind Italian university student Giulio Regeni's murder.
During a meeting with Italian Foreign Minister Enzo Moavero Milanesi, Sisi said that the relevant authorities, especially the judiciary represented by the Egyptian Public Prosecution, is coordinating with its Italian counterpart to find the murderers and bring them to justice.
Sisi met with Milanesi on Sunday, in the presence of Foreign Minister Sameh Shoukry, and head of the Egyptian General Intelligence Abbas Kamel, as well as the Italian ambassador in Cairo and the Secretary General of the Italian Foreign Ministry.
Spokesperson for the Egyptian Presidency Bassam Rady said that the President welcomed the meeting with the Italian Foreign Minister and praised the two countries' recent interest in developing areas of joint cooperation.
On Monday Milanesi praised the excellent cooperation between the Egyptian and Italian authorities regarding Regeni's murder. Milanesi held a meeting with Shoukry at a later time and held a joint press conference where Milanesi praised how the investigations were going.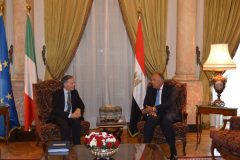 "We are sure that justice will come to light," Milanesi said during the press conference.
"I am pleased to hear from Minister Shoukry about the strong will of the Egyptian government to produce tangible results from these judicial investigations, as this is the goal of any justice in the world," the Italian FM said.
He stressed that all the points discussed today were important and were worth the visit.
For his part, Shoukry said that this visit is the first from an Italian foreign minister since 2015 and that "we are working hard to overcome the challenge faced the relations."
Regeni, a 28-year-old Italian University of Cambridge PhD student, was conducting field research in Cairo regarding the independent trade unions in Egypt when disappeared January 24, 2016 in central Cairo, amid a high presence of police in the area who were anticipating protests.
His mutilated body, bearing signs of torture, was discovered on a desert roadside on February 6 2016.
Initially, Egyptian police officials suggested Regeni died in a road accident. However, an Italian autopsy showed that Regeni's body was covered with cuts, and his bones were broken, indicating that he had been beaten with "fists, batons and hammers."
Egypt has emphatically denied that its police were involved in his abduction, torture, or death.
The Regeni case has strained ties between Egypt and Italy, which recalled its ambassador over the case. Relations were restored in August 2017 when Rome said it would return its ambassador to Cairo and continue to search for Regeni's killers.
Edited translation from Al-Masry Al-Youm