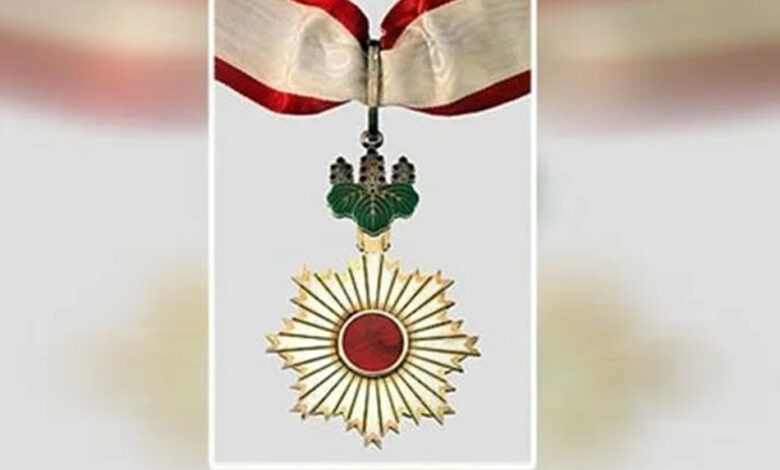 The Japanese government announced awarding the Order of the Rising Sun, Gold and Silver Star, to Egypt's Tourism and Antiquities Minister Khaled al-Anany and to former Antiquities Minister and renowned Egyptologist Zahi Hawass.
The Order of the Rising Sun is awarded by the Emperor of Japan to those who have made outstanding achievements and contributions in Japan and the international community.
The history of the order goes back to nearly 150 years.
The award was given to Anany and Hawass for their outstanding contributions in strengthening relations between Japan and Egypt and developing cultural and academic exchange, the Japanese Embassy in Cairo.
The contributions of Antiquities Minister and the famous Egyptologist were reflected in the tangible and visible achievements in the field of Egyptian antiquities, including the Grand Egyptian Museum (GEM) project, which is a positive mark of cooperation between Japan and Egypt, Japanese ambassador to Cairo Masaki Noke said.
The embassy stated that Anany worked closely with the Government of Japan in promoting the GEM, which is also another symbol of friendship between Japan and Egypt.
The Antiquities Minister contributed to enhancing mutual understanding and the exchange of delegations between Japan and Egypt.
During his tenure as tourism minister and visit to Japan in 2019 he attended the inauguration ceremony of the Emperor on behalf of President Abdel Fattah al-Sisi, the statement said.
Collaboration in supporting and promoting many research studies and explorations include a search for the second sun boat of King Khufu, which has had wide international attention.