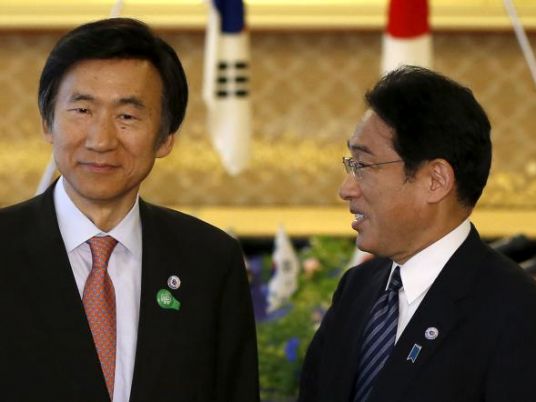 Japan
ese Foreign Minister Fumio Kishida held talks with his South Korean counterpart on Sunday in a bid to mend ties strained by a territorial dispute and a feud over "comfort women" forced to work in Japan's wartime military brothels.
The fraught relations are complicating efforts to boost security cooperation between Japan and South Korea, two of the United States' main Asian allies, as the region copes with an unpredictable North Korea and an assertive
China
.
South Korea says Japan has not properly atoned for its wartime past, including its role in forcing Korean women into prostitution at military brothels, while Japan says the matter of compensation for comfort women has already been settled.
Both China and Korea suffered under Japanese rule, with parts of China occupied in the 1930s and Korea colonized from 1910 to 1945.
South Korean President Park Geun-hye told the Washington Post this month negotiations on "comfort women" were "in the final stage".
But Japanese officials are far from optimistic and one government source has said Park's remarks may have been intended to impress Washington but did not reflect real progress.
Kishida and South Korean Foreign Minister Yun Byung-se shook hands and smiled before starting talks, which took place behind closed doors.
No joint news conference is scheduled after the first Tokyo meeting between Japanese and South Korean foreign ministers in four years, but Japanese officials will brief the media.
Kishida and Yun will likely agree on Sunday to aim for an early summit, the
Nikkei
business daily reported on Saturday.
Park and Japanese Prime Minister Shinzo Abe have not met one on one since taking office more than two years ago, while Sino-Japanese ties, similarly frayed by an island dispute and Japan's wartime legacy, have seen a thaw since Abe and Chinese President Xi Jinping held their first summit last year.
Both Yun and Kishida are due to attend a Tokyo ceremony on Monday to mark the 50th anniversary of the signing of a treaty that normalized ties.