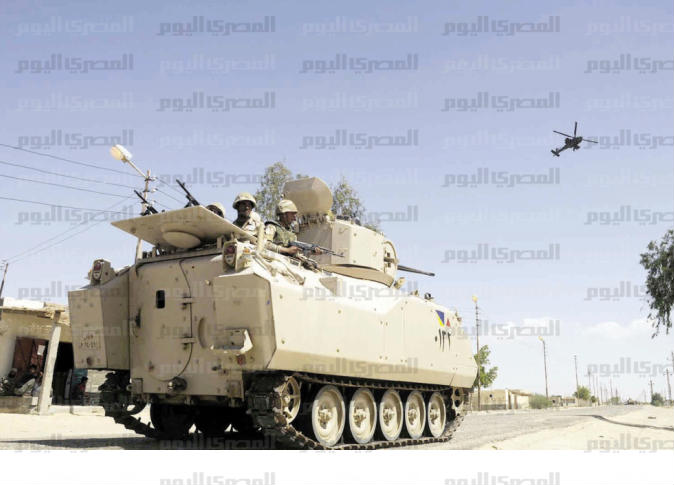 The Israeli Jerusalem Post newspaper said on its website Wednesday that the Israeli army has agreed to Egypt's request for strengthening security measures and deploying more Egyptian forces to the Sinai Peninsula, following attacks on Wednesday in Sheikh Zuweid City, according to the Israeli Channel Two.
The Jerusalem Post referred to the peace agreement signed between Egypt and Israel in 1979, which stipulates the approval of the two countries on the deployment of additional military forces in the border area on both sides.
The paper stated that the Israeli army is closely following the exchange of fire between Egyptian forces and Islamist fighters near the Israeli border, after multiple attacks on Sinai checkpoints.
The Russia Today website reported on Thursday that security sources in North Sinai said 10 leaders from Sinai Province, formerly known as Ansar Bayt al-Maqdis, were among the dead in the Sheikh Zuweid confrontations.
.
The general command from the Armed Forces announced on Wednesday evening that they have killed at least 100 terrorists while hunting for the terrorists who carried out attacks against several security checkpoints in Sheikh Zuweid.
A large number of them were injured and 20 vehicles were used in attacks against security forces, it added.
Seventeen army personnel were killed and 13 others injured in confrontations, according to the statement.
Israeli Prime Minister Benjamin Netanyahu said terrorism has began to impact Israel, pointing out that Israel, Egypt and many other countries in the Middle East and the world are aiming to fight radical Islamic terrorism.
He accused Iran, the IS and Hamas of sponsoring terrorism.
Netanyahu sent his condolences to the Egyptian people and the families of the victims of the bloody assault. Defense Minister Moshe Yaalon also expressed his condolences to Egypt.
Edited translation from Al-Masry Al-Youm