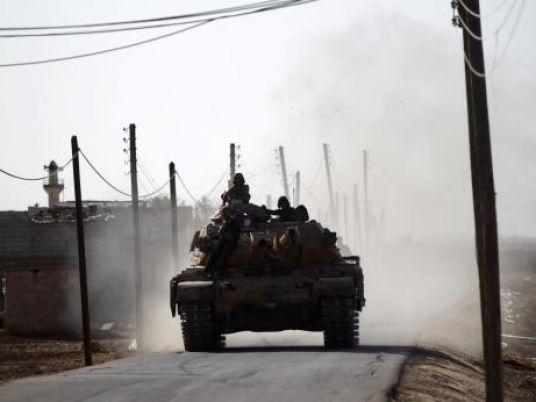 A powerful jihadist group has crushed a Free Syrian Army rebel faction in northwestern Syria, in an attack that threatens to deal a critical blow to the more moderate wing of the Syrian rebellion and derail new Russian-backed peace talks.
The Jabhat Fateh al-Sham jihadist group, formerly known as al-Nusra Front, launched an attack on a number of FSA groups in northwestern Syria on Tuesday, accusing them of conspiring against it at peace talks in Kazakhstan this week.
The fighting has engulfed the rebels' last major territorial stronghold in northwestern Syria, prompting a major Islamist insurgent faction to warn on Wednesday that it could allow President Bashar al-Assad and his allies to capture the area.
Officials with two FSA factions said Fateh al-Sham had overrun areas held by the Jaish al-Mujahideen group west of Aleppo. One of the officials said he expected other FSA factions to face the same fate unless they could get better organized to defend themselves – something they have so far failed to do.
Fateh al-Sham later on Wednesday attacked the central Idlib prison on the outskirts of the city which has been controlled by another rebel group, partly in an attempt to free inmates there, the Syrian Observatory for Human Rights monitoring group reported.
Fateh al-Sham said in an online statement the Alwiyat Suqour al-Sham group had handed it control of the prison, and rebel fighters guarding it had been allowed to withdraw without being detained. Reuters could not independently verify the statement.
The Syrian insurgency has been hamstrung from the outset by divisions among rebel groups fighting Assad, including the ideological split over whether to pursue Sunni jihadist goals or the more nationalist agenda backed by FSA groups.
"Nusra wants to end the FSA," said the FSA official, speaking on condition of anonymity because of the sensitivity of the subject. If it succeeded, "the ones who attended Astana will be finished", he added, referring to the talks in Kazakhstan.
Those talks were backed by Assad's two main allies – Russia and Iran – and by Turkey, which has supported many of the FSA groups in northern Syria. Russia mobilized the new talks after helping Assad to defeat the rebels in Aleppo last month.
ISLAMIST AHRAR AL-SHAM CALLS UP FIGHTERS
Fateh al-Sham was al Qaeda's official wing in the Syrian war until it announced it had cut those ties last year. Internationally viewed as a terrorist group, it has been excluded from all diplomatic efforts to end the Syrian conflict, including a recent truce brokered by Russia and Turkey.
Since the new year, Fateh al-Sham has been targeted by a spate of US air strikes. That included an attack by a B-52 bomber which the Pentagon said killed more than 100 al-Qaeda militants.
Fateh al-Sham said in a statement published on Tuesday it had been forced to act preemptively to "thwart conspiracies" being hatched against it. It said "conferences and negotiations" were "trying to divert the course of the revolution towards reconciliation with the criminal regime [of Assad]".
It also accused rebel factions that attended the Astana talks of agreeing to "isolate" and fight it, and said its foes were giving away its positions to the US-led coalition.
Fateh al-Sham is one of the most powerful groups in the remaining territory held by the rebels in northwestern Syria, including Idlib province. While it has often fought in close proximity to FSA rebels against Assad, it also has a record of crushing foreign-backed FSA groups.
Ahrar al-Sham, a major Islamist faction that also fights in the Idlib area, issued a general call-up of fighters to "stop the fighting in any form". Coming down on the side of the FSA groups, it accused Fateh al-Sham of rejecting mediation efforts that the FSA groups had accepted.
Ahrar al-Sham, a conservative Islamist group, is widely believed to be backed by Turkey. In a voice message posted on YouTube on Wednesday, Ahrar al-Sham leader Abu Ammar al-Omar said:
"If the fighting continues and if one party continues to do an injustice to another, then we will not allow this to pass, regardless of the cost, even if we become victims of this."