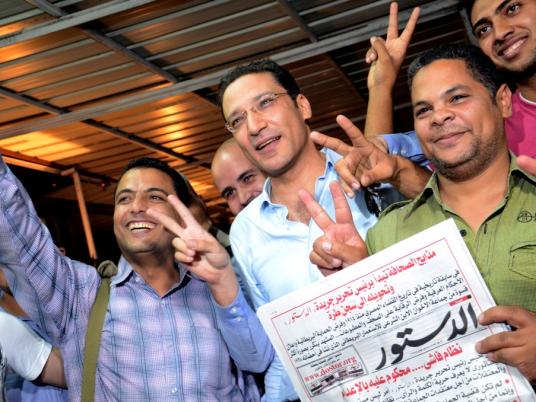 Islam Afifi, the editor-in-chief of the privately owned Al-Dostour newspaper, was released from custody on Thursday.
Afifi had been held in prison while awaiting a 16 September court date. He is being tried on charges of publishing false and slanderous information about the president.
Morsy passed a law on Thursday that disallows custodial detention for those being investigated in publishing-related offenses.
Afifi told the state-run news agency MENA today that the law passed by Morsy was personally welcomed by him and by the journalists in general, but pointed out that the press is in need of more safeguards so that journalists can operate in a climate of true freedom.
The press is still waiting for more constitutional and legal guarantees in order to be able to work without pressure or the fear of complaints to the police from anonymous people, Afifi said.
Al-Dostour will continue to be an opposition publication and its critical positions will not change, including the publication's criticism of the formation of the Constituent Assembly charged with drafting a new constitution, Afifi added.
The editor continued that there should be a consensus regarding the make-up of the assembly and it will not be legitimate as long as it is being disputed at the courts. He added that the constitution must counter discriminations against any segment of society, and must express the true identity of Egypt and its citizens.
"Why isn't the Journalists Syndicate responsible for monitoring journalists instead of the courts?" Afifi asked, suggesting that the syndicate form a committee to investigate charges against journalists and determine the appropriate penalties for violating the ethics and regulations of the profession.
Edited translation from MENA